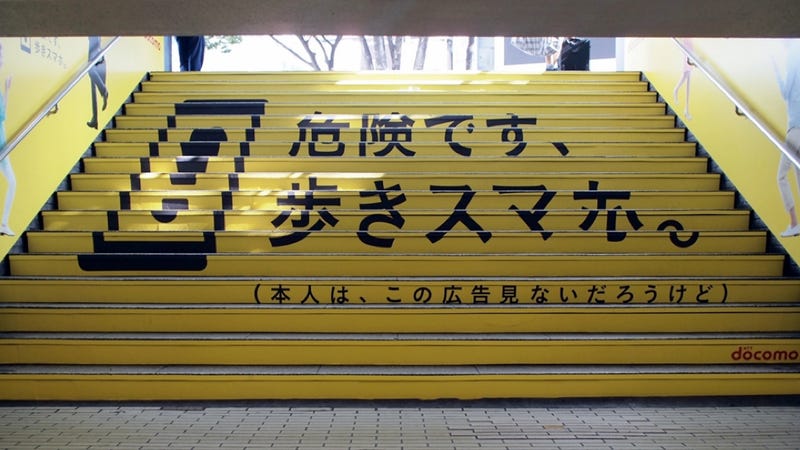 In Tokyo, mobile phone carrier NTT Docomo just unveiled a huge yellow warning plastered all over a Shinjuku Station staircase. It reads, "Walking while using a smartphone is dangerous."
Under the warning, in parenthesis, it reads, "But those people probably didn't see this announcement." Oddly, this kind of reminds me of health warnings you see from tobacco companies.
There are also advertisements on the walls next to the staircase, hoping to turn walking with smartphones into socially unacceptable behavior. Below, the text reads, "Even if you don't notice this poster, we want you to notice everyone's icy stares."
The campaign comes after the country's press has increasingly been reporting that walking while using cell phones is causing all sorts of hazards, such as people bumping into each other more and more. But that's hardly the worst of it. According to Asahi, this lack of awareness can also be deadly, as in 2010, one person fell from a train platform while using a smartphone and tragically died. Earlier this spring, a ten year-old boy fell off a platform while looking at his phone's screen. Thankfully, he was rescued in time.
To prompt safety, there are now radio ads telling people in Japan that using smartphones while walking is dangerous. Columnist Takashi Odajima is even calling for a ban on using smartphones while walking, much like the ban on smoking while walking in certain parts of Japan.