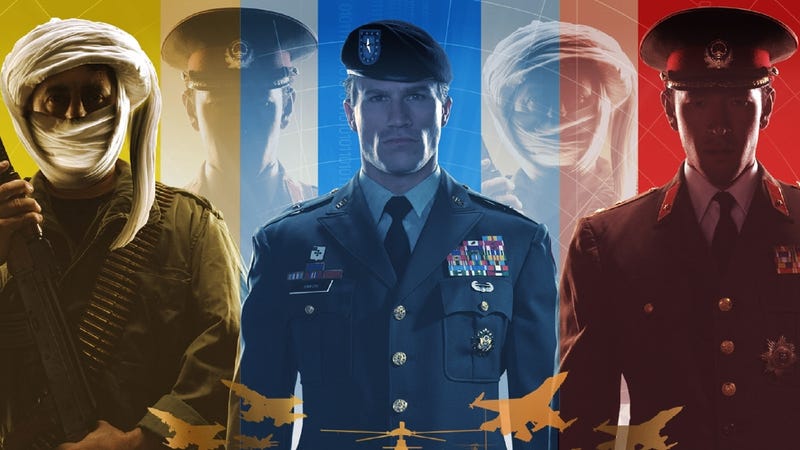 No longer will Command and Conquer's militant "Global Liberation Army" feature generals of obvious Middle Eastern descent, once the game goes free-to-play. Polygon reports that Victory Games made the decision because some folks didn't like the implication that Middle Easterners were a bunch of militant terrorists.
"Anyone who knows this series will know the Global Liberation Army," Tim Morten told Polygon. "But at the studio we had a bad reaction from people saying it was pretty offensive to have Middle Eastern characters as militants." The GLA will now have five generals of varying ethnic backgrounds.
In video gaming, the military genre has faced an increasingly delicate task of choosing who to make the bad guy as the settings have become more modern, particularly since this last console generation opened. It's why Nazis have been such reliably safe goons, defeated regimes like Imperial Japan are OK, and historical recreations of battles are fair in the strategy genre. That stuff happened, after all.
But I can remember a friend chortling at Konami's Rush'N Attack of 1985 and using it to troll a co-worker of Russian descent; so this particular issue goes back a ways. And though not without exception, the Middle East has been off limits—if not because of the unnecessary controversy of someone calling the game racist, but also because of superpatriots back in America who resent the depiction of current conflicts in an entertainment product. Six Days in Fallujah was quickly canned in 2009 amid such outrage. Medal of Honor's 2010 release raised a ruckus because original plans for multiplayer had you playing as Taliban. The feature was later removed but the stink lingered. Military PXes still refused to sell the game.