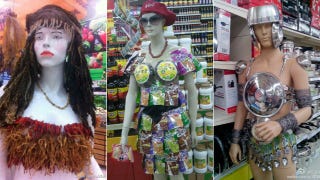 From tank tops made of toothpastes to dresses constructed with tissues, China's in-store displays are incredibly creative. Screw clothes, check out how supermarkets and hypermarts dress up mannequins to sell vegetables, toilet paper, floor mats, and utensils.
Recently, some of China's best supermarket mannequins appeared online in Japan. The images are from Chinese social networking site Weibo. Let's have a look.
In Chinese, these displays are called "chao shi da ma chuang yi" (超市大妈创意) or, loosely, "creations by super market ladies." The displayers are supposedly made by the old women who work at the supermarkets—though, they're probably made by dudes, too!
You might have noticed a couple of images from Kotaku's previous coverage of wonderful Chinese retail displays.