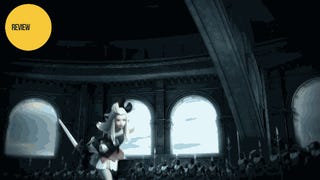 There's an old saying: if it looks like a Final Fantasy, feels like a Final Fantasy, and sounds like a Final Fantasy, it's probably Bravely Default.
Yes, Square Enix's latest sojourn in the well-trod world of medieval fantasy and magical crystals will feel familiar to anyone who has played old Final Fantasy games and other classics. Bravely Default, which is out today in North America, is a lot like Final Fantasy V, and Final Fantasy IX, with a dash of Final Fantasy Tactics. This is a game about four heroes saving the world, and you won't go a minute without being bludgeoned by references to Square's bigger series. If you don't get the hint from the Phoenix Downs and Firagas, two significant characters are actually named Edea and Steiner.
This Final Fantasy-ish feel—coupled with that series' undeniable decline—has led many pundits to herald Bravely Default as the game Final Fantasy should be. But really, it's found its own groove, jamming alongside its spiritual predecessor, where it can serve more as complement than replacement. Both series have their place in the world of Big JRPG.