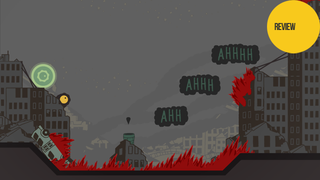 Though there's a smorgasbord of audio pulsing through it, Sound Shapes won't make a musician out of you. What it does is more esoteric and impressive than that. This new PlayStation Vita game lets you feel what it's like to live inside a song.
At its most basic, Sound Shapes has you playing your way through platformer architecture that throbs with the sounds of music. Almost everything you can interact with harbors a unique sound and those tones sync up with the grooves and beats of the level. Each set of levels is presented as an album and they're all open at the start so you can play whichever you want to first.
WHY: Music and gameplay collide in beautifully trippy ways in this excellent PlayStation Vita game.
---
Sound Shapes
Developer: Queasy Games
Platforms: PS3 and PlayStation Vita (version played)
Released: August 7th
Type of game: Rhythm platformer.
What I played: Finished the game's five sets of levels in about six hours. Played through a handful of user-generated content and dabbled in the level editor


Two Things I Loved
From storybook illustration to abstract retro pixels, the contrasting aesthetics from each set of levels feel like a visual feast.
Levels themed around music from Deadmau5 and Beck really feel like playable slices of each artist's imagination.
Two Things I Hated
You can easily finish Sound Shapes' Campaign Mode content in a weekend.
The precision required to make even simple jumps will sometimes snare you into evil death loops.
Made-to-Order Back-of-Box Quotes
"Sound Shapes stands as one of the most unique experiences I've played in a long time." -Evan Narcisse, Kotaku.com
"Sound Shapes might just make up for those piano lessons—and Technics 1200s—that my mom never got me." -Evan Narcisse, Kotaku.com
All you need to do in Sound Shapes is roll the little globular avatar from the turntable at the beginning of a level to the one at the end, jumping over gaps and hazards along the way. You can stick to and climb certain surfaces in the game or press a face or bumper button to speed along more quickly. Anything red in the game can kill you. Once in a while, traversal gets switched up radically like when you're gliding through a thick suspension of stars or floating skyward via a swath of bubbles.
Abstraction rules the day in this tightly-crafted little game, just as it did in Mak's 2007 PS3/PSP release Everyday Shooter. In the last game that came from Mak's Queasy Games studio, players shot their way through trippy landscapes learning how various elements in each level interacted with each other. The focus on music is stronger than in Shooter—where the levels played out for the length of a song—but there's less aggression.