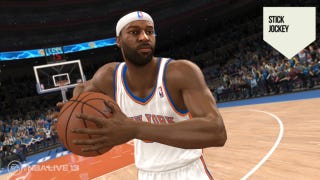 Let's be candid. As a licensed sports video game, when your series hasn't been on shelves in three years—a gap not seen since the days games were played on cartridges—you really face just one expectation and it's a pretty low bar: Just come out. Launch. Release on time. Somehow, over the past week, NBA Live has left the dreadful message it could suffer the same embarassing fate as its NBA Elite ancestor, canceled in 2010 a week before it was due in stores.

Maybe NBA Live is put under a different lens by gamers because of what happened two years ago, or because it's published by Electronic Arts. But considering the legacy left by Elite, letting any doubt about the game's viability go unanswered, even in the enthusiast press, would seem to be the one pile of dog doo this game's handlers should have avoided at all costs. And now, they've stepped in it.
Two weeks ago, Operation Sports—the Sporting News of sports video gaming—noted the total silence from EA Sports about its NBA product since a disastrous E3 appearance. Tuesday, in a conference call with investors, no mention was made of NBA Live releasing in the final three months of 2012. Wednesday, word spread this game might have a fully digital release suggesting a lower price point, and feature set, than a traditional $59.99 retail sports video game. The response from NBA Live spokespersons was that the game "continues to drive toward beta."