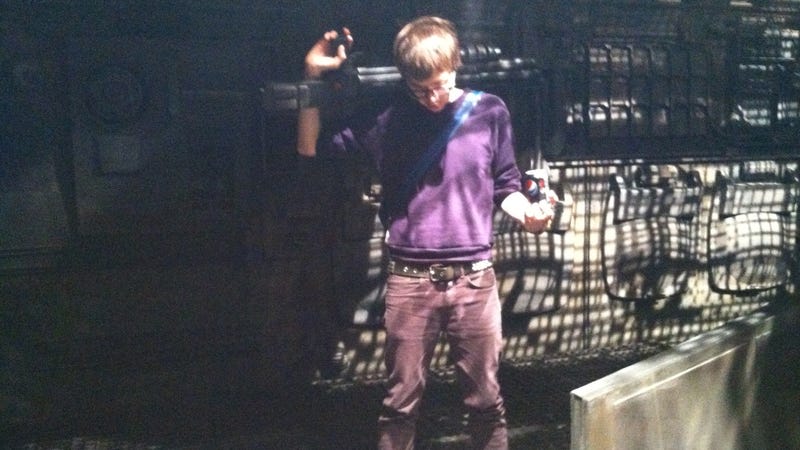 Allow me to apologize, on the behalf of all game developers, for the 2012 Electronic Entertainment Expo.
I don't have time to read every piece of periodical published on the subject. The few articles I have scanned, however, point to a general consensus that this year's E3 was a sort of bloodbath Roman Carnival of depraved screaming, screeching, and shrieking.
I find this assessment not immediately off the mark. The loudest moment of E3 2012—louder than the dubstep on the show floor, louder than the hip-hop at the NOS booth outside, louder even than the amplifier of the microphone-wielding man spouting The Word of Jesus in direct competition with the hip-hop at the NOS booth—were, yes, the orgasmic shrieks of press-conference attendees viewing moving imagery of a virtual bodybuilder lobotomizing an elephant with a jagged dagger.
A man held a sign high outside E3 for all days of the show: "ALL HAVE SINNED", it said, and then some Bible verse coordinates. Say what you will about the Bible—this man was on to something. His printed words chilled, and not only because we're all a little guilty about something. This man appeared to us during a week fraught with images of simulated violence, in a crucible of humanity wherein "to decapitate with a shotgun blast" inches day by day toward worthiness of its own single-syllable verb. We are not murderers; we aren't even "virtual" murderers, since that distinction means nothing. We are not exactly "champions" of violence, either, unless we endeavor to destroy every game not about headshots and neckshots and bleed-outs.