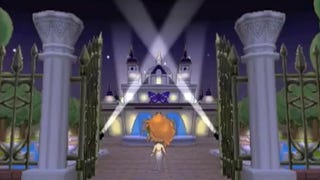 Girl's RPG Cinderellife is the newest 3DS title from Professor Layton creator Level-5. Marketed as a "girl's RPG," Cinderellife is the story of a plain girl coming to live in the big city for the first time. Before long, she is working in a Japanese hostess club and dreaming of finding true love amongst her clients. But does Cinderellife hit its mark as a girl's RPG or does it fly straight into a minefield of questionable content?
Good — Want to Date an Anime Character?
By far the best part of Cinderellife is the ability to date famous anime characters in your job as a hostess. From Lupin III to Tuxedo Mask, you have a chance to spend time with each of the twelve cameo characters. Knowing the back stories of these characters makes the conversations with them both fun and interesting—and a true reward to fans of their respective series.