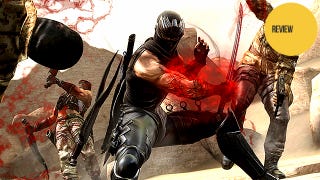 I admit it: I may well be the world's worst ninja. My sense of timing is less than exemplary, my coordination is not always great, and sometimes I just plain lose track of what's going on.
If Ninja Gaiden 3 had needed me to learn any actual skills or to provide any creative input into its battles, my deficiencies in the art of being a ninja would have been a severe impediment. But it also would then have been an interesting game that demanded skill, patience, or at least experiments with trial and error to complete. Perhaps it would not have been a great game for me, but it would still have been a game that challenged its players and left them feeling a sense of accomplishment at the end.
Unfortunately, Ninja Gaiden 3 is not that game.
In real estate, they say that what matters is size, cost, and location, and that you can get any two. In business, they say that you get any two out of good, quick, and cheap. In games, it seems, we often get any two out of three in the areas of good writing, good graphics, and good mechanical design. I have loved many a game that looked gorgeous even while being incoherent; I've loved games with great stories and bland mechanics, and I've enjoyed games that were smooth to play and looked pretty while having abysmal writing. It's a fool's errand to demand perfection from a game, and I've enjoyed many games that excelled in one area while failing miserably in others.
WHY: Because it's a tedious, uninspiring mess that neither pleases the franchise's old fans nor appeals to a new audience.
---
Ninja Gaiden 3
Developer: Team Ninja
Platforms: Xbox 360, PlayStation 3
Release Date: March 20 (North America), March 22 (Japan), March 23 (Europe)
Type of game: Ninja-themed quick-time heavy hack and slash bloodbath
What I played: The single-player story, roughly 9 hours long, on PS3
My Two Favorite Things
Playing "spot the voice actor"
It's a very nice sword, as ninja swords go
My Two Least-Favorite Things
The useless camera and targeting controls
The generic interchangeability of everything
Made-to-Order-Back-of-Box-Quotes
"Like Frankenstein's monster, it's built from other games and comes lumbering unevenly toward you." —Kate Cox, Kotaku.com
"Until now, I always thought that a dinosaur vs. ninja fight would be cool. I was wrong." —Kate Cox, Kotaku.com
The basic premise is this: you are Ryu Hayabusa, legendary video game ninja extraordinaire, and you're on a mission to save the world from some guys in masks with a doomsday plan. You have seven days to chase them down and figure them out, because Biblically the world was created in seven days and that's how these guys plan to re-create it. Along the way you'll be variously betrayed by your allies and supported by your enemies, most of whom (on both sides) switch back and forth more than once.
The story doesn't matter much, and it doesn't necessarily have to. Ryu Hayabusa is a ninja! We're not here for some namby-pamby about the state of the world; we're here to kill things! With a sword! And to do other really cool stuff, with other really cool weapons, and to level up skills and learn combos and become a stealthy, stylish badass!
Only Ninja Gaiden 3 doesn't provide any of those things. Hayabusa has one sword and one bow, for shooting jetpack-mounted gunmen and the occasional helicopter out of the sky. There are no skills to level, no items to find or collect. There are no spiffy combos to learn, and there is no sense of accomplishment or reward for completing a fight. Each wave of generic henchmen leads to another wave of generic henchmen, with little to differentiate or motivate them.
In fact, the only henchman who does differentiate himself begs for his life. He cries out that he's a father, that he was just taking the job to support his kids, that he doesn't want to die (as seen here). And the player has no choice but to run him through, in slow motion. The act is referenced a number of times throughout the game, as Hayabusa faces repeated accusations that he's a cold-hearted murderer, but nothing ever actually comes of it. The closest the game gets to delivering a moral message is in the very end, when Hayabusa is told: "You are NOT a murderer. But you're not exactly a hero either. Guess that's what it means to be a ninja."