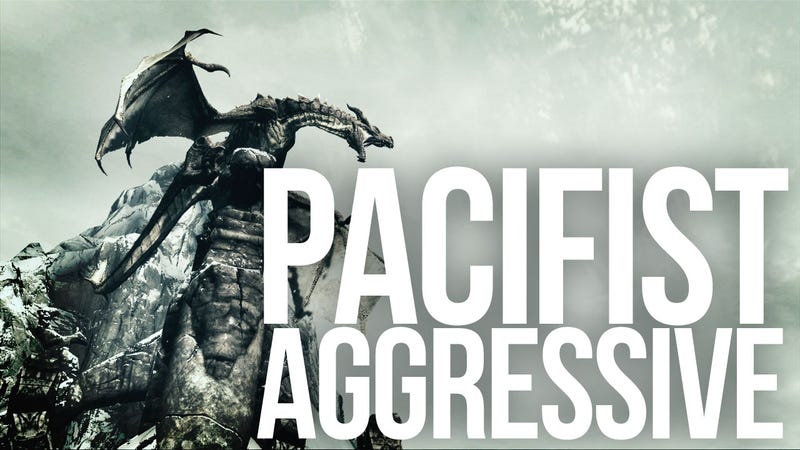 Some pacifists are nice people who wouldn't harm an elf. Others would cast a spell on a town full of people and have the crowd beat the elf to a pulp.
The second kind of pacifist isn't really a pacifist, of course. She's a manipulative monster who keeps her hands clean. That's who 20-year-old vocal music major Ember Jones is playing while reaching level 35 of the mammoth role-playing game Skyrim without recording a single killing blow.
She even makes dragons dead, without laying a sword or spell on them.
"My primary method of tackling dragons is to try and kite them to a nearby town or fort full of friendly [non-player characters] (or on one occasion two Giants) which I buff with spells like Courage and heal them while they do the work for me," Jones told me over e-mail. "It takes a while and sometimes the NPCs die too fast; but for about half of the dragons I encounter I can take them down with this method.
Jones is playing her third character in Skyrim, her first as a non-killer. "I see my character as a type of mentalist or minstrel: inspiring strife or discord to manipulate the odds in her favor while not actual being the one with blood on her hands." She is a very different kind of non-killer than Felix the Monk, the gentle pacifist we've covered here on Kotaku previously. That pacifist was nice. That pacifist was also Level 9 in Skyrim. Jones says she's ranked her heroine to Level 35, reaching the Alduin's Wall part of the main quest and otherwise just screwing around in the massive game.