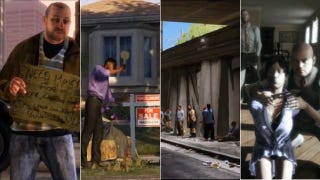 Would you shoot someone responsible for America's horrible housing market? Would you like to? What if you met his wife and kid first?
How did we get here, and where are we going? What happens when the 99% rise up, and more to the point, how happy will you be to play a video game that casts you as one of them? Or what if you're playing as a police officer, an enforcer of the status quo?
The recent economic recession—and its fallout—looms over most everything these days, and video games are starting to reflect that. From Grand Theft Auto V to the newest Rainbow 6, it's looking as though amid the zombies, aliens, cops and foreign soldiers we'll be fighting, it's the economy that will be the next big video game bad guy.
Given the time it takes to make a modern video game (generally a year at the fastest, and often two or three), it makes sense that big-budget AAA games would be a little bit behind the curve when it comes to tackling relevant social topics. It wasn't until several years after 9/11 that we started seeing games referencing the "war on terror," placing Homeland Security and FEMA center stage, and sometimes openly referencing the attacks on the World Trade Center. (I should note that in this post, I'm discussing AAA games, not faster-to-make newsgames, though I don't doubt there are plenty of those that deal with the economy already.)
Big-budget game makers are often skittish about approaching topical material. Hot-button issues don't guarantee sales, and often they're more trouble than they're worth. Take, for example, the saga of Atomic Games' Six Days in Fallujah, a documentary-style war game that attempted to show aspects of the grisly human costs of the war in Iraq only to be dropped by its publisher and never see the light of day. Or, look at the foofaraw that erupted just last year over Medal of Honor naming one of its multiplayer teams "The Taliban," only to back off at the last minute and rename them "Opposing Force." Whether it's due to games' spotty history with controversial material, their interactive nature, or their presumed audience, topical AAA games can be a tough sell.