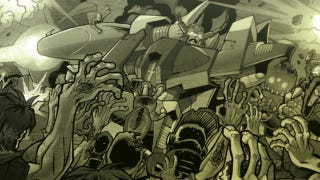 My weekly round-up of comics — some of them about video games — is back, in a slightly new format. Read on for my recommendations.
Our Week In Comics column will run every Wednesday, the day new comics are released in comics shops across America and, increasingly often, for download on the iPhone and iPad. Let me know what more you want from this column. For now, some tips on what's worth caring about:
Comics You Should Consider Buying
Batman Odyssey #6: Neal Adams drew beautiful Batman comics in the 70s and finally has returned to the character with Odyssey. Adams' involvement ensured Batman Odyssey would look great, but I had no idea that his writing would be so… amazing. In one issue you've got Batman being shot in the cowl, and in the next you get a painstaking explanation why that's no big deal, as Batman keeps beating up bad guys who are possibly trying to steal an electric car (which they'd been spending about four issues doing.) Then Aquaman shows up. The comic has been nuts. The new issue has Batman teaming up with The Joker, and Deadman, naturally.
Legion of Super-Heroes Annual: Because Keith Giffen is drawing it, and you, like me, may have a weakness for his wonderful, kinectic-yet-blocky art.
Transformers Infestation #1: Look, you might be burned if you spend $4 on this comic and it sucks, but you would own a comic that pits the Autobots against… zombies. It also is part of a cross-over that sends zombies after G.I. Joe heroes and people from Star Trek. How zombies pose a threat to any of these well-armed groups is a mystery to me, a mystery that can only be solved in comics. (Read the preview at our sister site, io9)