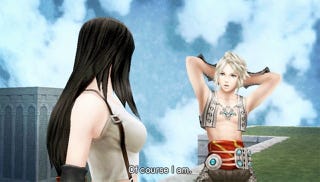 Did you find the first Dissidia: Final Fantasy lacking in the jiggling cleavage you demand of your fighting games? Good news: the sequel to Square Enix's Final Fantasy all-star fighter has fleshy fan service in spades!
The official ESRB rating for the PSP game, Dissidia 012: Final Fantasy, warns of more "suggestive themes" than the original, including "revealing outfits that expose large amounts of cleavage" and a boost in physics ("characters' breasts also jiggle during combat"). Perhaps the most interesting warning in the description of Dissidia 012: Final Fantasy is this "suggestive" text.
"Here's a better idea: 'Zoom camera into Tifa's cleavage!'" the game apparently instructs. It may not be shooting at enemies' exposed buttocks, but it's sure to titillate the longtime Final Fantasy fan more.