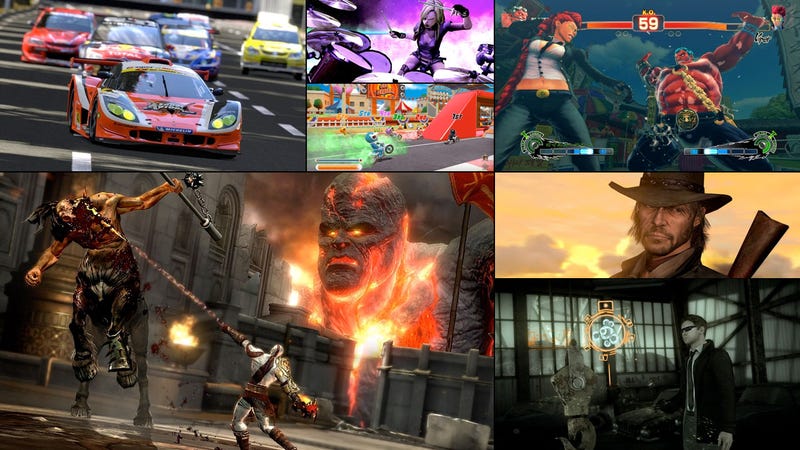 The holidays are coming, and that means it's time for you to start thinking about what sorts of gifts you want to give the PlayStation 3 owner and get as a PlayStation 3 owner this year.
The PlayStation 3 had a strong year in 2010—hey, it was no 2009, when Uncharted 2: Among Thieves, Demon's Souls and Flower hit the system—with franchise greats like Gran Turismo and God of War representing on Sony's console. There was a flood of great third party content too, as well as the launch of the promising PlayStation Move.
Perhaps the best gift one can give the PS3 owner this holiday is a gift certificate, because there's plenty looming on the horizon from Sony—Twisted Metal, LittleBigPlanet 2, The Last Guardian—in 2011.
Here's our take on some of the best PlayStation 3 games of 2010, games perfect for the giving and receiving. Feel free to add your own recommendations in comments.
Gran Turismo 5
Rating: E
Genre: Racing simulation
Ideal Player: The car enthusiast that wants nothing but the prettiest, shiniest, most museum-like driving game to proudly display on the PlayStation 3 and grease monkeys who love tinkering with virtual cars.
What's It About?
The "real driving simulator" is back with an all-new entry in the 13-year-old racing game series that practically re-invented how car games are made and played. Gran Turismo 5 lets gamers drive the most exotic and famous of cars in real-world locations with realistic physics, a chance to experience the most expensive luxury cars in the world for just sixty bucks.
Bang For Your Buck:
Over 1,000 cars, dozens of race tracks, World Rally Championship, NASCAR and Super GT licenses, online racing, a course editor... you don't get much more bang for your buck than with Gran Turismo 5.
---
Heavy Rain
Rating: M
Genre: Adventure
Ideal Player: The gamer who prefers an immersive, interactive story above all else and mature players with a thirst for murder mysteries. Possibly the woman who owns a PlayStation 3 and craves a crime drama, according to some.
What's It About?
This psychological thriller puts players in the role of four characters whose stories intertwine through tragedy, murder, loss and drug addiction. It's a dark, sometimes violent, sometimes sexually charged adventure that plays unlike most modern console games.
Bang For Your Buck:
There's a good story here, but the value may come in the numerous ways players can revisit Heavy Rain's story, altering the way scenes and plot threads play out based on the decisions players make.