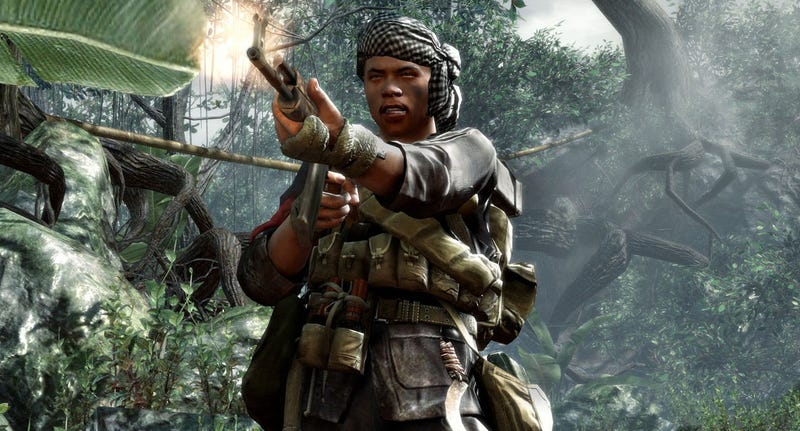 The Call of Duty series has gone from the Second World War to the present day and now, with Black Ops, back to the Cold War. That's seventy years of warfare covered across seven main Call of Duty games.
The fact Black Ops spans multiple decades and multiple conflicts shows that for a series born on basing itself on a historical conflict (the Second World War), the historical inspiration for future Call of Duty games seems to be running dry. World War 2 is a dead horse, Vietnam has never been a happy hunting ground for video games and no other wars of the post-1945 era were big enough or dare I say exciting enough to base an entire game on. Which is why I think Treyarch have made the right decision to compile a "highlight" reel of the Cold War, rather than simply settle for "Call of Duty: Vietnam".
And the Modern Warfare series? While free of the burdens of historical accuracy, with its fantastical tales of nuclear explosions and Russian invasions, it's a series that is now tied to a single plotline, one that irked many fans in the second game with its ridiculous story. When that story comes to an end - or as seems more likely wears out its welcome - it would bring Modern Warfare as we know it to an end with it.
So it makes you wonder: where can the series go next? While its multiplayer modes will no doubt continue to be refined and will be great successes regardless of the era or setting they're dropped in, they still (for the immediate future, at least) need a singleplayer game to ship attached to, and to dictate its maps and weapon loads.
There are two things to consider when compiling either a wishlist or prediction sheet, then: where the concept of a first-person shooter can go, and where commercial necessities will allow it to.
I'd love to see a game take place during the era of muskets and bayonets, like the Napoleonic Wars or the US Civil War. But Call of Duty has always, regardless of the setting, been a game about fast-paced combat through linear stages with modern firearms. Stepping back to that time of open battlefields (or any other earlier period in history) would require a total overhaul of the game's pace and mechanics, and if that happened it wouldn't be Call of Duty, would it? I don't think Ice-T would be so keen on Call of Duty: Pistols at Ten Paces.