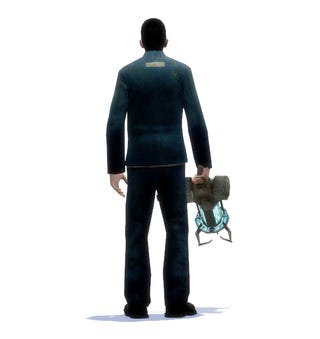 Garry Newman has one of PC gaming's better-known first names — and one of its best grassroots success stories.
He may have flubbed his one job interview with Valve, but the man behind Garry's Mod is doing alright and has some thoughts about modern modding.
Newman is set up in Walsall, England, He's 28 and tinkers all the time with his world-famous prized creation. That creation, Garry's Mod, launched in late 2004 and has been a hit since then, regularly one of the 10 most-played game on Steam.
Of course, Garry's Mod isn't a game. It's a toolset, a playground for tinkering in Valve Software's Source Engine and one of the most successful gaming canvases ever released to the computer-playing public. Players who own games made with Valve's Source Engine — Half Life 2 or Team Fortress 2 — can use the mod to set up worlds, pose characters, design contraptions and do all sorts of wondrous things.
Here's a classic example from a few years ago (and several Garry's Mod iterations ago).
For Garry, the Mod has been a few things over the years:
It was the thing he was talented enough to make. "I never started out thinking 'I will make a sandbox mod,'" he told me over e-mail this week. "I was just messing around with the Source Engine and it turned into this thing. It was mostly about letting me mess around with the Source Engine's features. … To be honest at this point I didn't really have the programming ability to make a real game on the Source Engine. Adding guns that attached things to ropes was easy compared to that."
It then became a surprise. Garry didn't realize it was popular, he said, until he "begrudgingly" set up forums for it. He didn't realize it was going to be so malleable until he added ragdoll posing and saw what people made of it.
And it's become income, a lot of income. He didn't tell me how much he's made in the four years the $10 mod has been on sale (it was free for two years before that). He did give me some numbers, so we can sort of do the math. He makes $5 when the game is bought on its own; $2.50 when it's in a bundle. 770,628 units sold lifetime, 264,350 of them since this time a year ago — which means sales are speeding up and it's safe to assume he's netted more than $1,000,000.