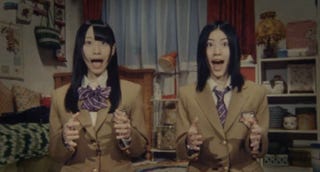 According to the Kinect manual, the controller-free peripheral needs between 6 and 8 feet of space. That's important to know. Here is the manual's exact wording:
The sensor can see you when you play approximately 6 feet (2 meters) from the sensor. For two people, you should play approximately 8 feet (2.5 meters) from the sensor.
The first Japanese television ad for Kinect is a clever spot. It features two idols from music group SKE48 and plays up the "There's no controller?!" angle, which certainly should help the product in The Land of the Rising Sun. The rub is between 6 to 8 feet might be a tight squeeze for many Japanese living rooms. Heck, it's already an impossibility for one Australian one.