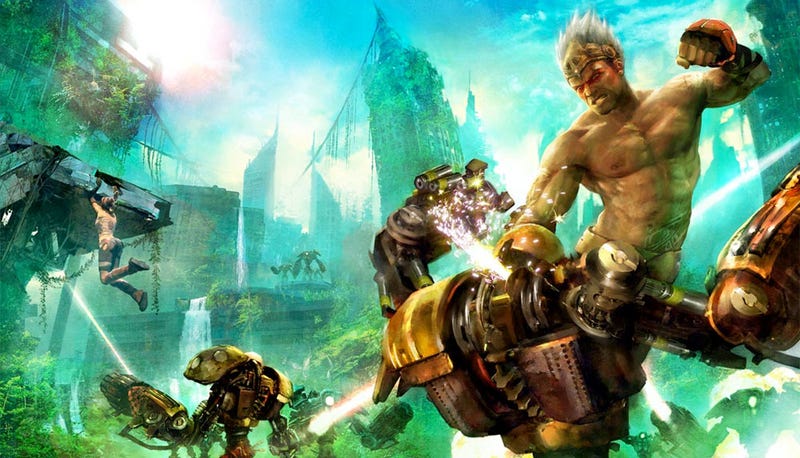 There is a man named Monkey and a woman named Trip. New York City is in shambles, its landmarks collapsed or covered in ivy. What looks like a new co-op game is a single-player epic, gaming's new sci-fi original.
Enslaved: Odyssey To The West comes from Ninja Theory, development studio behind Heavenly Sword which claims as its best attributes games with fun combat, terrific visual styles and voice-and-body acting by Gollum himself, Andy Serkis. This is an original sci-fi road movie of sorts with likable characters: the player's prisoner man Monkey and the computer-controlled Trip, a young woman who has affixed a crown to Monkey's head that will murder him if he strays or if she dies.
Ideal Player
People who like Uncharted and other games full of jaw-dropping scenery through which you can acrobatically jump your hero; also people who love the sometimes-flirtatious dynamic seen as far back as Prince of Persia: Sands of Time that has the controllable lead guy bantering with the lead female throughout the adventure.
Why Should I Care?
Do you want to play a new game that has new characters? This is no sequel, and that's not something you can say for most of the other games coming out this fall. It's also the latest release from an ambitious studio that next gets to work on a new Devil May Cry, so gamers might want to see how these upstarts are doing.

Hold up. They are putting out games in the fall of 2010 that aren't sequels? They sure are, and Enslaved is all the more fun because of it. This is the post-apocalypse (story by Alex Garland of 28 Days Later fame). We're on the run. We're climbing the rubble of the Brooklyn Bridge. These are things fiction has shown you before, but you still won't be able to predict every piece of Monkey and Trip's adventure.