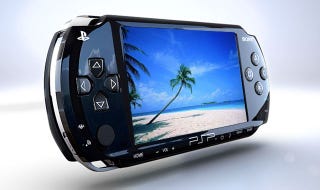 Summer is tough on the person who loves playing video games. How can one survive gaming's hottest, sweatiest and slowest season, whether hitting the beach with a Nintendo DS and PSP, or staying home and out of the sun?
If you're going on an extended road trip or vacationing to destinations far from home and video game console, learn to love—and make sure to protect—your portables this summer. Whether you're an aficionado of the Nintendo DS, PSP or prefer to get your gaming done in-between texting and phone calls on your iPhone, don't leave home this summer without some of these long haul games, perfect to get lost in while stuck in back seat of a car on that long drive to visit the World's Largest Ball of Twine.
And don't forget the accessories. If you're going to the beach, you're going to need some serious protection—sunblock for you to protect that gamer tan, sand-blocking cases and screen cleaning supplies for your portable platform of choice. If you're traveling internationally, don't forget one or more AC outlet adapters, like this all-in-one from Kensington.
Nintendo DS
The Nintendo DS library is rich with role-playing games, the ideal, long-term investment genre that can suck up an entire summer vacation. Just don't forget to look up from the screen once in a while to take in that gorgeous sunset, national park or aforementioned string ball.
Must Have Summer Survival Accessories
If you're planning on hitting the beach or plan on an extended summer adventure, you must bring a Nintendo DS case. Power A's Nintendo DSi XL Ultimate Travel Case can house everything you need, including a few cartridges, everything up to the size of an extra-large sized DS and a few extra styli. Hori's option (pictured) for housing your Nintendo portables, games and whatnots is also sound.
Don't Forget To Protect Yourself
Practice common sense. If you're going to be spending hours at the beach, eyes glued to the LCD screen of your handheld, take precautions. Apply sunscreen liberally (or have a bikini model apply it for you), wear UV coated sunglasses to stay cataract-free and limit your exposure to the sun.

For maximum protection against gooey PSPs and DSs, keep your handhelds sunscreen slime free with Purell sanitizing hand wipes. (For your hands, not your electronics.)
To protect your DS's screens from glare, scratches and the dangers of greasy sunblock, a screen protector like BoxWave's adhesive ClearTouch Anti-Glare films will help keep your portable pristine.
Finally, don't leave the home fort without a back-up stylus (or three) and consider a DS car adapter to keep the handheld charged on long trips.
PSP
For the gamer who would prefer to keep his or her games, MP3s, movies and more with them at all times, bring your PSP. Like the Nintendo DS, there are plenty of recent long session games to play. If you're just now getting into the PSP ownership game, check out our first-time buyer's guide and stock up on dirt cheap UMDs before you embark on your summer quest.
And play these games!
Metal Gear Solid: Peace Walker - Add some stealth to your summer with the newest adventures of Snake. In addition to solid solo play, Peace Walker lets players cooperate with wireless multiplayer. Settle your backseat differences with some Cold War era cooperative fun.
Lunar: Silver Star Harmony - If you've never played this Japanese role-playing game classic, now's the time. It's gorgeously remade on the PSP and offers plenty of summer slaying grind to while away the hours.
LittleBigPlanet - This adorable platformer adds dozens of hours of fun with its built-in level creator. Spawn your own LittleBigPlanet game types and worlds, then share them with a friend.
Half-Minute Hero - Get your fix of PSP gaming 30 seconds at a time, eschewing grind for fast-paced action RPG fun. It's cute, colorful and offers a different take on the portable time-sink.
Shin Megami Tensei: Persona 3 Portable - Driving cross country this summer? Let the latest portable version of Atlus' demonic role-playing game eat up all your free time's free time.
Must Have Summer Survival Accessories
Bring a back up battery, just in case. And speaking of cases, protect your PSP or PSPgo properly, either with a Logitech PSP PlayGear Pocket—a hard shell that also acts as a stand and sun shield—or with Sony's official case for the download-only go.
Hori makes some fine screen protectors, should you want to keep your PSP free from dangers of sand, seagulls and fruity tropical cocktails.
Download loads of PSone Classics that you never got around to during the original PlayStation era, scour your local game store's used bin for cheap UMD movies, just in case your thumbs get sunburned, and bring a cleaning cloth to keep that PSP screen nice and viewable. Quality headphones are a must!
iPhone & iPod Touch
If you have an iPhone, it does more than just occasionally successfully make a phone call, it also plays games! There are hundreds to choose from, some of which are actually quite good. Our iPhone and iPod Touch for gaming buyer's guide has everything new owners need to know, but if you're looking to game on Apple's platform this summer, get these games too.