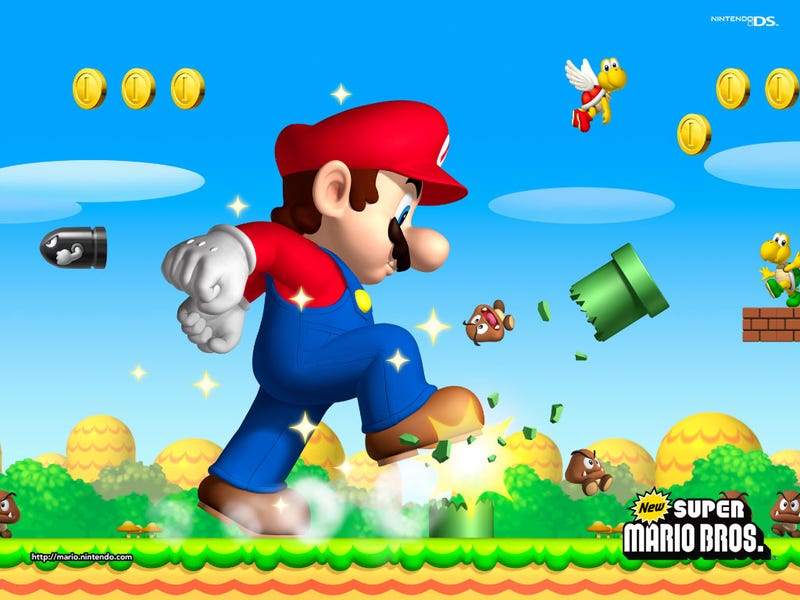 A world that is falling in love with 3D needs to know something: A different sort of 3D electrified video game players more than a decade ago. It was supposed to take over. But 2D won't die. In fact, people just might like flatter... better.
The latest 2D Mario game came out in late 2009. It is currently crushing the sales of a 3D Mario game that was released two years before it.
The big games for Nintendo's Wii this fall? They're in 2D.
Some of the most impressive and beautiful games shown at this year's E3 showcase of the hottest video games? 2D.
A Radio Or A Horse?
Gaming in 2D was supposed to be a relic.
It was so easy to believe back in the late 1990s that 2D gaming was the horse the mailman used to get a parcel out to the West, something wonderful for a time but destined for obsolescence.
The great games of the 80s and early 90s had been, mostly, in 2D. Pac-Man played on a tabletop was 2D. Donkey Kong played in a stand-up arcade machine was 2D. Super Mario Bros. and Sonic The Hedgehog games scrolled left and right, maybe up and down, all in the flatness of two dimensions. Tetris, a game about falling squares, was 2D gaming perhaps at its finest.
But in 1996 Nintendo released Super Mario 64, a Mario game in which Mario could run away from the screen, deeper into his world. This was a new kind of Mario game in which your most common view of the video game plumber was his behind rather than his side. For players, we had gone from seeing Mario from the window of an apartment to chasing him down the street.
After I played Mario 64, I figured 2D was finished. The future would be in three dimensions.
Mario's conversion from 2D star to 3D star led to the conversions of game series such as Zelda and Donkey Kong, and, later, Grand Theft Auto from 2D to 3D. They even made Tetris in 3D (on a sphere, and it was pretty good.)
The 3D versions of Mario, Zelda, and GTA were lobbed to the top of Best Games of All Time lists.
Tomb Raider directed gamers to the rear of Lara Croft. Sports games converted from 2D sprite graphics to 3D players and arenas made of polygons. Fighting games transformed from battles waged on flat planes to those set in circular arenas. First-person shooters were 3D as well of course, and all of this made it seem certain that 3D was the locomotive, the truck and the jumbo jet that made the 2D an irrelevant horse.
That's bad history. 2D is not a horse. Turns out it is a radio, a technology that its "better" couldn't make obsolete. Fighting games slumped but have been revived in the last two years by Street Fighter's return to 2D. Mortal Kombat, Street Fighter's Pepsi, is switching back from 3D to 2D as well.
In the shadow of Super Mario 64, Nintendo tried more Mario 3D games, including 2007's Super Mario Galaxy for the Wii. Through April 2010 the game has sold 4,184,000 in the U.S., according to the NPD group which tracks video game sales. Last November, Nintendo released a new 2D Mario game on the Wii. That game, New Super Mario Bros. Wii, through April 2010, has sold 6,101,000 copies. The smart money says 2D Mario is going to lap 3D Mario.
2D isn't dead. 2D is turning to its side and kicking some of 3D's ass.
Why 2D Was Able To Come Back
About a month ago, I reviewed the most recent 3D Mario game, the superb Super Mario Galaxy 2. In my review I praised many things but lamented what I believe is a limitation of games set in three dimensions: