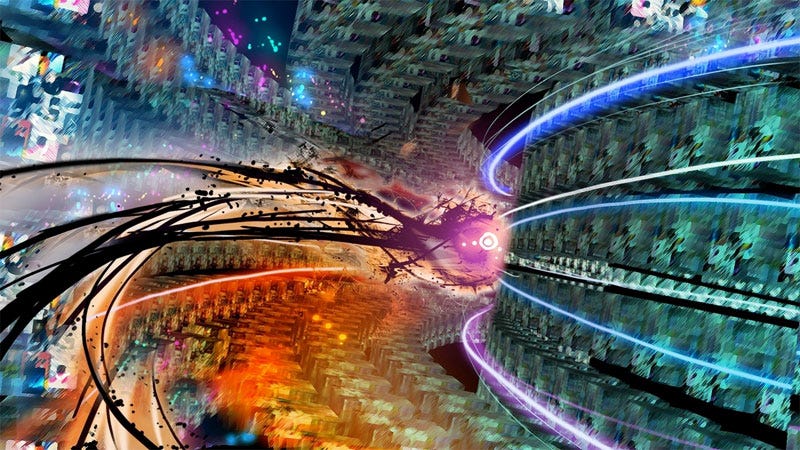 Fans of the video game Rez from Tetsuya Mizuguchi—people of discriminating taste—should be ecstatic to learn that a sequel, in spiritual form, is coming. Child of Eden is what Rez would be if controlled by the human body.
Child of Eden, published by Ubisoft and crafted by Q Entertainment, the development home of Mizuguchi, shares much of the trippy synaesthetic stylings of Rez. They share similar sound effects and play styles. Line up shots that will destroy abstract enemies in an abstract environment by positioning a reticule and then letting loose with musical bullets.
Rez was a third-person musical shooter controlled with a Dreamcast, PlayStation 2 or Xbox 360 controller. Child of Eden, named after the artificial intelligence that lived inside a futuristic supernetwork, does away with the dazzling avatar of the original, putting the player in a first person perspective. The game is also optionally controlled with the Kinect camera for Xbox 360 and under consideration for Sony's PlayStation Move controller. But we also saw the game played with a regular Xbox 360 gamepad at E3, a chance to experience the vibrating feedback so instrumental to the original experience.
But Child of Eden has a capable replacement for that tactile feedback, at least according to "New IP Director" at publisher Ubisoft, Tommy Francois. He believes the popping of one's hand, a quick thrust at the screen for the Xbox 360 Kinect version, will provide that immersive sensation.
The Kinect version of the game lets players wave their hand over objects to target, pop them at the screen to shoot and clap their hands together to switch firing modes. There's a little bit of lag in the targeting reticule in the pre-alpha version of the game, in line with the slight delay shown in the game's first trailer.