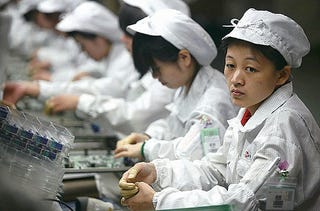 Following a rash of suicides, workers at the Foxconn Shenzhen factory have a shot at a raise. Another one.
This is the most recent pay increase at a factory complex that has garnered internationally attention for its workers jumping to their death.
Foxconn manufactures the iPhone, the iPad, the Xbox 360, the Wii and the PS3.
In late March, Foxconn workers received a 20 percent pay increase. The company claimed that the raise was not in response to the recent suicides, but planned. That figure then increased to a 30 percent raise, bumping wages from the equivalent of US$130 to $175 a month. It was even rumored that Apple was chipping in.