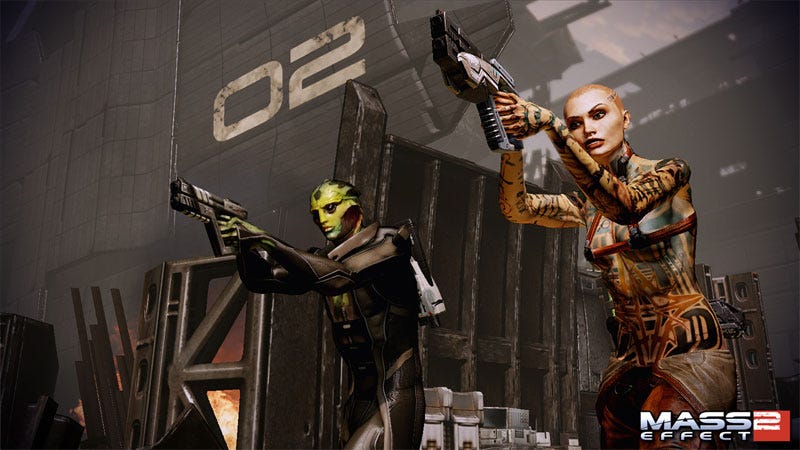 This review was originally published on Kotaku on January 26, 2010. To celebrate Mass Effect week, we're bumping it up!
What kind of man (or woman) has intergalactic hero Commander Shepard become after saving the universe from the Reapers in Mass Effect? That's all up to you in BioWare's Mass Effect 2.
Shortly after the events in the original game, Commander Shepard comes down with a serious case of death, but death is only the beginning in Mass Effect 2. Reconstructed by the mysterious Cerberus organization, our hero is tasked with investigating the disappearance of several human colonies, an investigation that will lead him on another star-spanning adventure with an all-new cast of colorful companions by his side.
More than a simple sequel, Mass Effect 2 refines several of the original game's features, most notably the combat system, which now plays more like a third-person shooter than anything seen in the role-playing genre. Are the changes a giant leap in the right direction, or did BioWare make a massive mistake?
Loved
Walkin' the Walk and Talkin' the Talk: Mass Effect was very pretty, and featured top-notch voice actors. Mass Effect 2 is even prettier still, and the new additions to the cast give the original rogues' gallery a run for their money. Courtenay Taylor is delightfully vicious as Subject Zero. Wolverine voice actor Steve Blum is perfect as the gruff Krogan Grunt, and Jennifer Hale still shows up her male counterpart in the role of female Commander Shepard. The one bright, shining star in the cast, however, is Michael Beattie as Professor Mordin Solus. His rapid-fire Salarian science speech is a joy to listen to, and one particular conversation with him completely steals the show.
Hiding Krogan, Shooting Turian: The biggest shift between Mass Effect and Mass Effect 2 is the combat system. If you were to ignore the special skills and powers altogether, Mass Effect 2 is a third-person cover reliant shooter in the same vein as Gears of War. Once you master the duck and cover maneuver, the rest is icing on the cake. Using your party's powers effectively to overcome shields and barriers takes the combat system deeper, and issuing individual orders to your party members takes it even deeper still. It can be as complex as an advanced squad-based shooter or as simple as popping up from behind a box and taking your shot, but no matter how you play, it's always a shooter, and I quite like it.
It's Emotionally Engaging!: If Mass Effect 2 had failed to play on the player's emotions, BioWare CEO Dr. Ray Muzyka would look rather silly right about now. Fortunately for him, BioWare once again succeeds at drawing you into the lives of your companions. Each new member of your crew has a distinct personality and problems that, while fitting with the setting, reflect on issues that you and I can relate to. One needs to discover his roots. One wishes to reconnect with his son after being gone far too long. Some seek revenge; others, redemption. Even the most comical alien figures have a human side to them that helps bring the character closer.