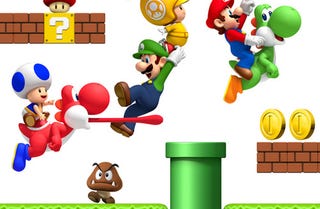 Like many younger brothers I had a contentious relationship with my older brother. We butted heads, fought, lied, accused each other of unimaginable atrocities and genuinely despised one another — while secretly caring deeply what the other thought.
But there was one thing that always brought us together: Difficult video games.
In the 70s and 80s, the heyday of gaming's explosive appearance in homes and arcades, playing a video game with your brother usually meant taking turns. Or, if you were the younger, less-skilled brother, it meant asking for help, learning from your older sibling.
It was, at least for us, one of the few ways we could bond openly.
Nintendo's latest innovation in gaming, the Super Guide, could throw all of that out the window by enabling the game console to take over the role of big brother, big sister, father, mother, role-model and play the game for you, virtually holding your hand when things get tough.
The Super Guide will make its first appearance in November when Nintendo releases New Super Mario Bros. Wii for their console. In the familiar game, players run and jump through the Mushroom Kingdom, avoiding pitfalls and cartoon enemies on their quest for the perpetually displaced Princess Peach.