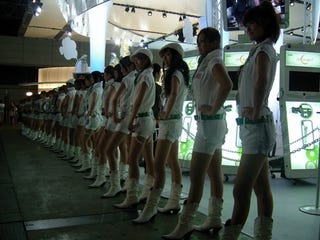 "They look cute," says 20-something-year-old Takahiro Yamaguchi. "So cute." He's spent a good chunk of his day taking booth companion photos. "It's not just how the girls look," he explains, "but what they're wearing. That's what I'm taking pictures of."
Every year there are two shows at the Tokyo Game Show: the games that are played and the clothes that are worn. While cosplayers have the market cornered on outrageous spectacle, it's the booth companions that often provide the most revealing look into a company's corporate culture.
"The traditional booth companion uniform — you know, the short skirts, the high heels, the vinyl — are designed to appeal to men," says Xbox Japan's Yuichiro Aoki. "Our uniforms are designed to appeal to women." That in turn, Aoki believes, will make the booth companions feel more comfortable. "We didn't want to force the girls to look sexy. We wanted their appeal to come out naturally. Maybe this is just my opinion, but I think that's when women look their most beautiful."
Booth uniforms tend to run on cycles for some companies, while others change it every year. Last year, Japanese newspapers reported that Microsoft would be revealing a new booth companion uniform. While the company has had varying degrees of success, Microsoft has been picked for best booth companion uniform by game magazine Famitsu year after year after year at TGS. Famitsu quoted one attendee as saying, "Microsoft's outfits didn't seem to reveal much at first, but look again, and..."