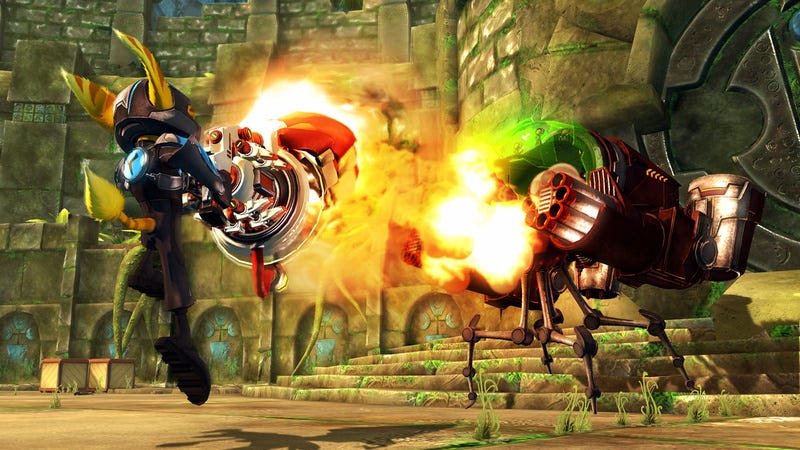 The second or third sequel to a good video game is usually better than the first. But the seventh — arguably ninth — Ratchet & Clank runs the risk of Friday the 13th diminishing returns. This preview checks for pitfalls.
What Is It?
Ratchet And Clank Future: A Crack In Time is the third PlayStation 3 edition of the Insomniac Games franchise known for its cartoon gunplay, graphically rich platforming and happy humor. It follows the 2007 Blu-Ray release, Tools of Destruction, that reverted to the fundamental gameplay and level design styles of the first three PS2 Ratchets as well as the 2008 downloadable short, Quest For Booty, that added more puzzle-solving to the mix. The series often combines Ratchet gameplay sections full of dynamic jumping and shooting with side sections starring the robot Clank doing something new: cloned platforming, giant robot battles, etc.
What We Saw
A couple of weeks ago in Seattle, an Insomniac rep handed me a preview disc that features the first hour or so worth of gameplay in the game, providing an intergalactic tour of the game's new features. That includes the new outer space hub system which I already previewed. I experienced a magical opening cut-scene I'd rather not spoil, played as Clank twice, the second time learning about his series-new time-manipulating abilities. The Clank stuff sandwiched two on-foot Ratchet levels, one on a planet and one in a giant enemy space ship. Plus I explored the first of the game's several space hub systems, which stitch the game's main planet levels and moon side-levels together.