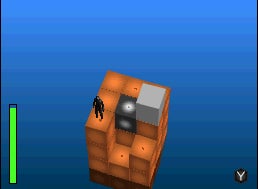 Skipping past dull debates about whether games are art, consider this new DSiWare puzzle game that is labeled as art. Okay. So it's art. What to make of that fact?
Hammers, hula hoops and other things you use with your hands or hips are not often described as art — at least not as frequently as are paintings and and sculptures. They are not things you often stare at, think about and interpret over a glass of fancy wine.
A lot of the world's stuff can be crudely and often inaccurately divided this way: Objects can suffer or enjoy the liberation of being classified as art — the inspiration for deep thinking and conversation — or objects can be defined as the stuff of utility, spared the fate of being hung on a wall and picked apart. (Music straddles this divide... We might hear it as art, appreciating it or analyzing it. But we may use it as a tool, putting it to use to dance to it, to seduce someone or improve boring drives across Nebraska.)
Yes, a little downloadable DS game, Art Style: Precipice, sent my mind in this direction, triggering my art interpretation muscles just as it did those joints in my fingers that can report to my brain about whether this game is a good use of a subway ride.
Loved
The Best Block Pushing Money Can Buy: One must discuss gameplay first, art fans. Precipice is the latest Art Style game, all of which are simple and one of which was based on cutting and folding boxes. This one defies those who feel Zelda and God of War were the omega of block-pushing gameplay. There are two modes of play (plus relaxing unlockables). Both modes place a little d-pad-controllable man on a floating floor of cubes as more slowly rain from above. He can push and pull them, each step illuminating a tile with a color. Every footfall scores points. In one mode, making full-length paths of a color triggers a multiplier; the other mode rewards points for coating a smaller floor with one color. Plummeting blocks lay foundations for new floors. They'll also kill you if you don't move. The challenge to score, push and climb feels fresh despite being almost entirely what the most tedious Zelda and God of War puzzles are comprised of. Why? I think because it's simple, pure and swift, gameplay for gameplay's sake, motivated by the chase for points.