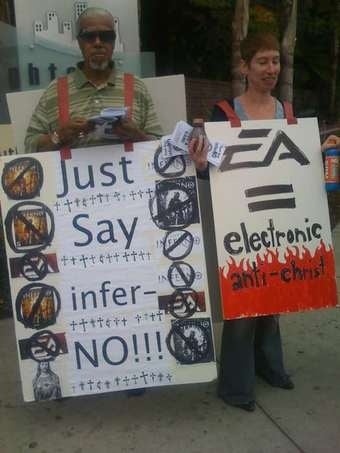 We didn't report on Electronic Arts' staged protest of Dante's Inferno at E3 because it was an obviously fake marketing stunt (Although I was fooled). But people's reactions, different story.
In case you didn't read the free ads put out by the Associated Press and the Los Angeles Times, EA hired a bunch of people to wave signs, hand out pamphlets and pretend-protest that EA was gonna burn in hell for making a game about it. Since that stereotypes people who wave signs, hand out pamphlets and damn people to hell, someone went out of their way to be offended on their behalf.
"It's been clear for a while now that the entertainment inudstry views Christians on the whole as priggish, thin-skinned fun-killers," writes InsideCatholic.com's Margaret Cabaniss. She's right. I have no idea where they got that impression. She points out that some of the faithful aren't prudes and do in fact game - her own site has discussed modern gaming favorably. ("For a lot of Catholics, the Middle Ages is the place to be. And for that, you cannot beat Medieval 2: Total War.") And they're rewarded with that by a fake protest that stereotypes unreasonable people.