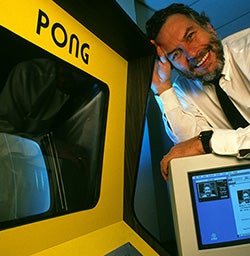 Atari founder Nolan Bushnell is back in the gaming business once again, as a press release heralds his "third coming" as part of the gaming sweepstakes website GameWager.
GameWager is a service founded in 2007 and in public beta since July 2008, that rewards players who sign up with tokens for completing certain objectives in various online games. Get a kill in Team Fortress, get a token. Players can then redeem tokens for chances to win prizes, such as Alienware Laptops and Nvidia graphics cards. So far the list of supported games is tiny, but World of Warcraft, Left 4 Dead, and Red Alert 3 support is currently in the works.
I am assuming that this particular press release was issued in order to tie Nolan Bushnell to the project, perhaps drumming up more interest in publishers to help get their games supported. Is this a smart move? Judging from some of Bushnell's past projects, his endorsement might be more akin to nailing a dead rat to the front door of your new restaurant.