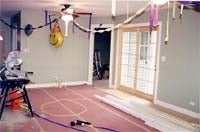 The E3 party is over. We here at Kotaku are crumpling up the paper tablecloths, throwing out the empty cake boxes, and pulling your shoe out of our fish tank as we wrap up the last of our coverage of the many, many things we saw and did at the event.
But what about what we didn't do? There are a handful of key titles that we thought we could expect for this year's holiday season, so why weren't they showing alongside their seasonal bretheren? We rounded up for you a complete list of this year's no-shows and the hype that preceded them, and then tried to get to the bottom of their conspicuous absence.
Hit the jump for the full report.
The Game: Alan Wake




The Hype: Max Payne developer Remedy announced the "action thriller" way back in 2005, promising to unveil it at E3 — but the game's skipped every event since then, while the developers denied cancellation rumors.

The Facts: A recent story referring to a Windows-branded contest that suggested the game would be shown at this year's Tokyo Game Show turned out to be old news from last year - Remedy posted on its Alan Wake forums that the team's just gotten back from a bit of holidaying, and that they "haven't had time to chat with Microsoft on upcoming shows/showings yet." We contacted Microsoft, and got a "no comment."