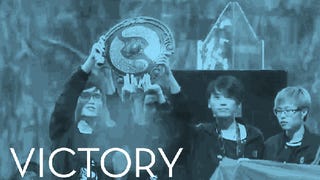 Monday's grand final match in the $10 million Dota 2 tournament, The International 4, was so lop-sided—so shocking—that forum conspiracy theorists briefly postulated that the contest must have been rigged. No way, of course. I can explain what happened: why one team was able to crush the other so convincingly and why the changes developer Valve has made to Dota 2 in the past year deserve some of the blame for the International 4's disappointing final clash.
But back to those wild theories first, since they illustrate just how shocking the match was.
How, people asked, would the winning team, NewBee, have the strength to thoroughly squash Vici Gaming given that Vici had been working its way through the lower bracket of the tournament with riveting match after riveting match?
Why would Vici, who had made short work of American favorite Evil Geniuses, have conceded three games in a row to NewBee so quickly?
How could the finals fall so flat and fail to live up to the expectations of last year's chaotic finals between Na'Vi and Alliance?