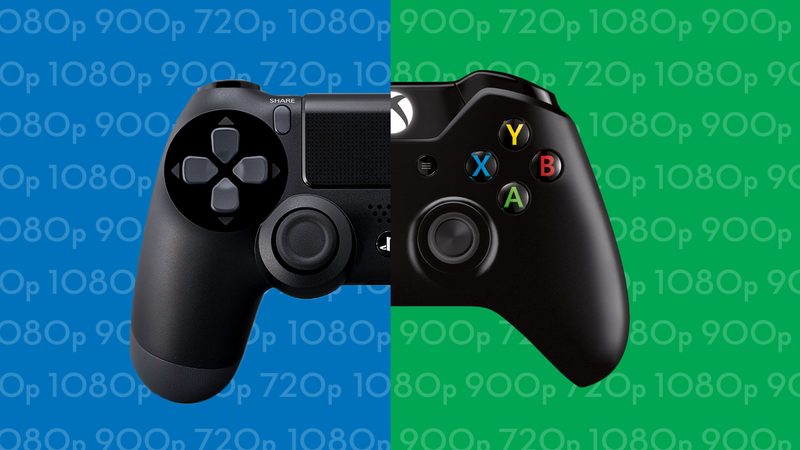 The graphics battle between the Xbox One and the PlayStation 4 has been raging for months. Here at the start of December, with the consoles finally loose in the wild, one thing is certain: Several big games run at a higher resolution on PS4 than on Xbox One. And although it's easy to downplay the significance of that disparity, I've found that it really does make a difference.
Multiplatform games like Assassin's Creed IV and Call of Duty: Ghosts provide the easiest way to directly compare the two consoles, since we can look at the same game running on both systems. (It's more difficult to compare exclusive games like, say, Xbox One's Ryse: Son of Rome and PS4's Killzone: Shadow Fall.)
Here's a breakdown of multiplatform native resolution discrepancies, with resolutions mostly via Eurogamer's Digital Foundry:
---
PS4: 1920x1080 (1080p) | Xbox One: 1280x720 (720p)
PS4: 1600x900 (900p) | Xbox One: 720p
Assassin's Creed IV: Black Flag (Via The Verge)
PS4: 1080p | Xbox One: 900p
PS4: 1080p | Xbox One: 1080p
---
Just going by the numbers, the PS4 has got an advantage in all but one of those games. And although the Xbox One upscales games' resolutions to output to your 1080p TV, if you play the games on both systems—which I've spent a good chunk of time doing—the difference is evident. With the exception of Need for Speed: Rivals, the PS4 versions look sharper in a way that doesn't require high-tech capture software to understand. It's apparent to the naked eye.
Why is that the case? Time and expert hardware analysis will tell for sure, but as several developers have already explained to us, the PS4 is simply a bit more graphically powerful than the Xbox One. It's not a huge difference, but it's there. COD: Ghosts' developers even said that due to the different ways the two systems allocate system resources, they just couldn't get their game running smoothly in 1080p on Xbox One in time for launch.