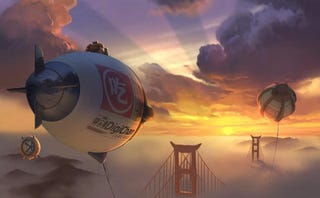 You'd think Disney's Big Hero 6 would steer clear of controversy. That it would be a fairly innocuous movie. You'd think!
Money Today reports that the movie, which isn't out yet, is already creating some controversy online in South Korea, because net users are upset that the movie features alleged Rising Sun imagery.
The sun is important to the Japanese—religiously and culturally. The first sunrise of the year is seen as an important event. While Rising Sun imagery has been used in Japan for centuries, it was carried by the Japanese military during World War II. It is still flown by the Japanese navy—something the U.S. government made official after the war. The flag, however, is seen as offensive in South Korea because of what happened due to Japanese military aggression.
According to Money Today (via tipster Sang), here are the rising sun images in Big Hero 6 that are causing ire for some South Korean net users. These were spotted in the movie's trailer:
Disney said, "There are no Rising Sun flags on display in the movie, nor was it the intention to suggest the Rising Sun flag." (The original comic, however, was more explicit in its Rising Sun imagery.)
Then again, this is the movie's concept art (via Hitgall):
Keep in mind that people from all walks of life worked on the movie, including, yes, those with Korean heritage, such Shi Yoon Kim and Jin Kim.