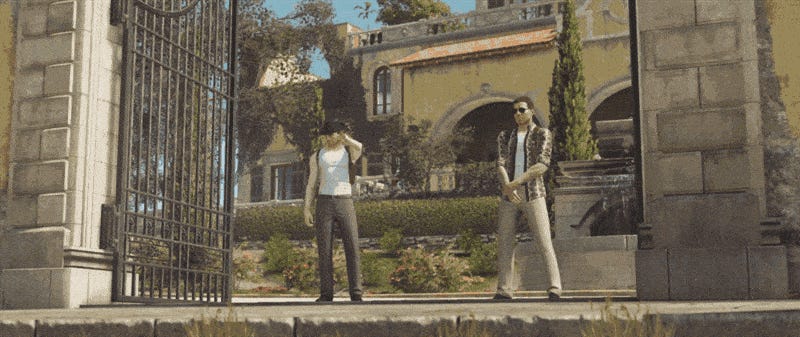 This week IO Interactive released the second episode for their new Hitman game, full title Hitman 6: So You Want To Be A Hitman? After some costume changes and a few grisly murders, we decided to put our heads together to talk it out.

This new mission takes place in the Italian coastal villa Sapienza and tasks 47 with murdering a couple of new targets, as well as infiltrating a well-guarded underground lab in search of a deadly new bio-weapon. Riley MacLeod and I put on our best disguises and met to discuss what worked, what didn't, and who a guy has to kill to get some poison spaghetti around here.
Fair warning that we will be discussing some disguises, locations, and methods for taking out the two targets, though we won't get into too many specific spoilers regarding the later parts of the level.
---
Kirk Hamilton: So here we are to discuss the second episode of Hitman, which came out this week. I never quite know what to call this Hitman. I guess the accepted term is Hitman 2016?

Riley MacLeod: Yeah, I just say "new Hitman."
Kirk: What's funny is, the first game was not actually called Hitman. It was called Hitman: Codename 47. This new one is actually the only game called Hitman, so Hitman it is. Anyway. New episode. It's good! Damn good, I'd say. Agree? Disagree?
Riley: Agree! It feels really different than the first episode—easier in some ways and harder in others. I was glad it felt so different, though.
Kirk: Yeah, to both counts. It's one of the biggest Hitman levels I've ever played, particularly in how many nooks and crannies there are. It's also the most sprawling in terms of objectives.
Riley: I definitely had to temper my tendency to panic and run for it because of the multiple objectives, as well as try to think a bit more strategically about hiding bodies so I wouldn't blow my chances for later.
Kirk: I like how both of the "full" levels released thus far—Paris and now Sapienza—have had multiple targets. It's not a new thing for the series, but it adds a nice feeling of escalation and consistency to each playthrough. I've actually been doing way less save-scumming than I did in Paris, and I like the fact that if I screw up, I can't just blow away my target and run to an exit point. I gotta keep on moving, because there's more to do.
Riley: I found Sapienza a lot harder to navigate than Paris in terms of the number of NPCs there were. In Paris I felt like there were so many people it was hard to get my target alone, but at the same time it didn't feel hard to get into places and blend in. In Sapienza, I found it easier to get into areas and be alone with targets, but the NPCs who were around felt harder to navigate and deal with. It might have been my costume choices too, though. I'm hard-pressed to resist an outfit change when the opportunity presents itself, even if it might not be the most expedient choice. "I like your shirt! I want that!"

Kirk: Yeah, so far in Sapienza I've yet to find an ultimate disguise that lets me get into a ton of places, which I kinda felt like the Helmut costume did in Paris. So it's made me have to be more deliberate with my costuming strategy, and keep a mental checklist of where I've left various outfits.
Riley: Related to that, something I found interesting was the way one of the targets, Silvio, was hard to get close to. He's characterized as kind of introverted and with a lot of social anxiety—I wasn't in love with the way that was demonstrated through, say, his speech patterns, but I noticed that he would get suspicious if I came near him no matter what I was wearing. It made it harder to track him, but I also thought it was an interesting way of expressing his personality through the mechanics. It made him feel less like a generic target and made me think more about how 47 would have to assassinate a specific person.
Kirk: I haven't explored every method of killing both targets, but I do think it's interesting how the ways I've killed them have tied in with their characters and told me more about them. Like, I killed Silvio by bringing him flowers and hiding by his mother's grave, then strangling him while he grieved. (Which: dang!)
Then I posed as the golf pro and killed Francesca, which also let me learn some new stuff about her. I really like how you learn more and more about the characters in the level by playing it in different ways and listening to various conversations they have. It gives the game a richness that feels uncommon—to the point that random NPCs appear to have relatable inner lives.