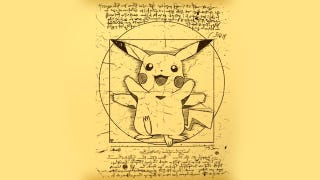 I write a whole lot about Pokemon here at Kotaku—and every time, at least one person asks what the deal with the franchise is. Why is it so big? Why do people care about it? What's it about, even?
Maybe you wonder these things, too—it's an especially relevant set of questions now that Pokemon X & Y are about to release. Although it may be difficult to capture why this franchise has become so beloved, here's my humble attempt at explaining Pokemon.
Where it begins for most people might differ. Maybe it was the show, back in 1997. Maybe it was this song from the show in particular and the words I want to be the very best, like no one ever was:
Maybe it was the original games, Pokemon Red and Blue.
Maybe it was the trading cards, and the endless attempt to collect all the shinies. Or, maybe it was all three at once—that's how it was for me, at least.
But wherever you went, there it was. Pokemon. Even then, during the late 90s, it wasn't too hard to see why. Here's this franchise about kids who go on adventures to become 'Pokemon masters,' and in practice what that really means is that you can leave home when you're like 8 years old to see the world with your friends and pets. Pretty seductive, as a fantasy. (And highly lucrative, as merchandise.)
151 was the magic number, initially. 151 different critters to choose from. 151 Pokemon, many of which look somewhat close to creatures we know in the real world...only cooler somehow. Sure, you can see that in the design, but mainly it was that these monsters could evolve and become faster, stronger, better. That was such an alluring concept. I didn't even know about Charles Darwin back then, but when the real-world concepts appeared in my life, they didn't seem implausible. It's like Pokemon, you know?