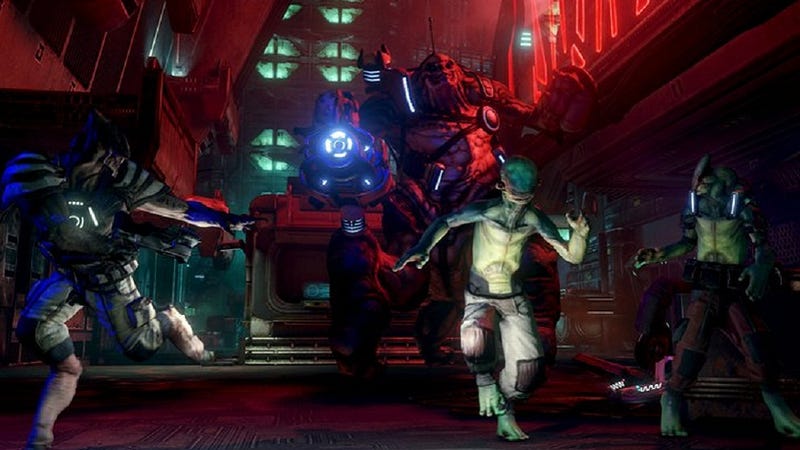 The long and strange saga of Prey 2 may have a new twist: we hear that the sci-fi shooter will be rebooted by Arkane Austin, the development studio that made Dishonored.
What's more, we hear that at least some of the folks at Arkane don't want to make the game, which publisher Bethesda has been shopping around for quite some time now following a split with previous Prey 2 developer Human Head Studios in late 2011.
We first heard this news earlier this week from a tipster claiming to be connected to the project. We reached out to Bethesda, but they wouldn't comment. So over the past week I've been chatting with both the original tipster and other developer contacts in an attempt to confirm that Arkane is now doing Prey 2.
No luck. I couldn't get confirmation. So we held off.
But today, the Prey 2 fan site Alien Noire is reporting the same thing we've heard: that Arkane's Austin-based studio is now working on the game. What's more, they're reporting details that weren't sent to us by the original tipster, like the fact that the developers at the California-based Obsidian (South Park: The Stick of Truth) were working on Prey 2 at one point, and that the England-based studio Rebellion (Rogue Warrior) turned down the opportunity to make the troubled sci-fi shooter. Both Obsidian and Rebellion have worked with Bethesda in the past.
I'd already heard whispers about the connections to both Obsidian and Rebellion before, which lends some legitimacy to Alien Noire's rumor. I haven't been able to corroborate the Rebellion connection, but I've confirmed that Obsidian did indeed work on the game at some point.
---
Rumors had been swirling that the game was cancelled, delayed, or in limbo.
---
It's hard to say what Prey 2 would be now, because what we've already seen of an earlier Human Head vision for Prey 2 is so different than the first Prey. The original game centered around a spaceship called the Sphere. The planned sequel appeared to be a sci-fi bounty hunter game set on an alien planet called Exodus, with more of an open-world feel.
But it's been a troubled journey for Prey 2, whose fate has been in question since it dropped off the face of the planet after a stunning debut at E3 2011. Rumors had been swirling that the game was cancelled, delayed, or in limbo.
What I've heard from one person connected to the project is that Bethesda hadn't been in contact with Human Head about Prey 2's fate until recently, when they told the team it would be cancelled. According to that person, Human Head spent over a year with no clue what was happening. Meanwhile, the company worked on other projects, helping out on some aspects of the recently-released shooter BioShock Infinite, among other games.
According to a different source familiar with the project, Prey 2 was in development at Obsidian, the company behind games like Fallout: New Vegas and Alpha Protocol, for at least a few months.
And according to our original tipster—who I've confirmed is indeed in a position to have this information—Bethesda had been trying for a few months now to convince Arkane to work on the game. Last week, the tipster says, Bethesda finally forced their hand: Arkane would develop Prey 2, scrapping all the work that Human Head has done and starting from scratch, with a targeted release date of late 2016.
---
Tipster: Higher-ups at Arkane are telling the team to forget that it's called Prey 2 and just treat it like a new System Shock.
---
Some people at Arkane Austin are upset about this decision, our tipster said, but higher-ups at the company are telling the team to forget that it's called Prey 2 and just treat it like a new System Shock—the first-person PC series that inspired games like Bioshock and Arkane's last project, Dishonored.
(Arkane has two studios: one in Austin and one in Lyon. According to our tipster, each of those studios is working on a different game. Harvey Smith, the well-known designer who co-helmed Dishonored with Raphael Colantonio, recently moved to Lyon. We haven't heard anything about what they're developing, but Bethesda has said they hope to turn Dishonored into a franchise.)