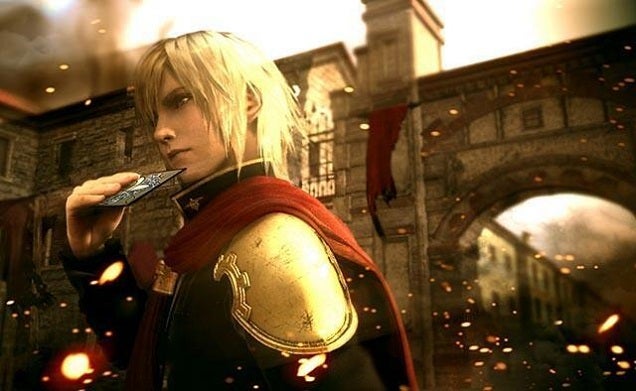 Earlier this week, just after press conference day, Square Enix dropped one of E3's biggest bombshells—that they're remaking the PSP game Final Fantasy Type-0 and bringing it to PlayStation 4 and Xbox One here in North America.
This was exciting news for fans desperate to play one of the few Final Fantasy games that never made it out of Japan. All of those fan petitions had worked, and now Type-0 was coming here. Plus, as the PlayStation Blog reported on Tuesday morning, Type-0 would also be coming to Vita.
Except... wait... just a few minutes later, Sony issued a correction. No Vita. Just consoles. Whoops.
Update: Final Fantasy Type-0 HD is coming to PS4 not PS Vita. Apologies for confusion!

— PlayStation Europe (@PlayStationEU) June 10, 2014
A whole bunch of fans were immediately pissed, and took to the comments of the PlayStation Blog to complain about Sony getting everyone's hopes up only to shoot them down a few minutes later. That Type-0 post on the PS Blog currently has 1,319 comments, almost all of them complaints about the game not coming to Vita.
Exacerbating this drama were some tweets from Sony's Shahid Kamal Ahmad, who has spent months actively promoting the Twitter hashtag "#jrpgvita" and promising big Vita announcements for people who like Japanese role-playing games.
On Tuesday, when Sony announced Type-0 for Vita, Ahmad wrote the following:
Final Fantasy Type-0 HD. Coming to PS Vita. http://t.co/zE2Af0T0g4 #jrpgvita is this what you might call a megaton?

— Shahid Kamal Ahmad (@shahidkamal) June 10, 2014
Don't thank me. Thank Lorenzo. He persuaded me about the whole #jrpgvita thing. He deserves the credit. And thank yourselves!

— Shahid Kamal Ahmad (@shahidkamal) June 10, 2014
Persist. Believe. Persevere. Win.

— Shahid Kamal Ahmad (@shahidkamal) June 10, 2014
But then...
Whoops, I jumped the gun. Blog post now updated. You can kick me now. (But we will keep on pushing for it and I know you will too)

— Shahid Kamal Ahmad (@shahidkamal) June 10, 2014
Though Ahmad says Sony is still working on getting the game to Vita, a whole lot of fans are very pissed off about the whole situation. Square Enix designed Final Fantasy Type-0 as a portable game for the Vita's predecessor, the PSP, so many gamers expected to be able to play it on the go. And Sony's big screw-up poured a gallon of salt into that wound.
Combine this Type-0 mess with a PlayStation press conference that was underwhelming for Sony's unappreciated handheld, and you've got yourself a whole lot of angry Vita fans. So now there's a petition, and even a popular new Twitter hashtag: #NOVITANOBUY.
A lot of people are pissed. To give you a taste of some of the reactions out there:
I won't buy a PS4 until Sony proves that they won't abandon the Vita. #novitanobuy

— James Galizio (@Theswweet) June 10, 2014
WE WANT PORTABLE EXPERIENCES, NOT AN EXPENSIVE PS4 CONTROLER. FF Type-0 #NOVITANOBUY @SquareEnixUSA @FinalFantasy

— ~Lord Gore~ (@MigueKatsura666) June 10, 2014
If @PlayStation spent as much time at #E32014 talking about TV as they did the #PsVita then imagine what could've been @Yosp #NOVITANOBUY

— DethJester7 (@DethJester7) June 11, 2014
I thought that the announce day of ff type-0's western release was goin to be awesome but now just look at us. @Squareenix #NoVitaNoBuy

— Bloodshed (@Monzterpunk) June 11, 2014
If Sony's not going to support it's system then fine, but come out and say it! Don't give the customers this kind on disrespect #NoVitaNoBuy

— David (@daviogbe) June 11, 2014
@giocorsi Damage control? No need to embarrass yourselves anymore, :\ #BuildingTheList #BuildingTheLies #NoMoreLies #NOVITANOBUY #PSMors

— Shrink007 (@Shrink007_SFS) June 11, 2014
The vita isn't some streaming device @playstation it's a console one that needs actual support instead of buzzwords #NOVITANOBUY

— Ryan Young (@ThatVidyaGuy) June 12, 2014
#NOVITANOBUY does not want @FinalFantasy Type-0 to fail anywhere. We simply want to play the game on the handheld we fought hard for.

— Luka (@TyrannikosCM) June 12, 2014
I'm really tired of this neglect toward the vita community it's actually just insulting at this point... #NOVITANOBUY

— !¡! PSVITA !¡! (@arman_sabahi) June 11, 2014
@SquareEnixUSA even if you stay silent nobody will just forget this #NOVITANOBUY

— Ryan Young (@ThatVidyaGuy) June 12, 2014
Remote play is good, but I've not bought an accessorie for PS4. #NOVITANOBUY

— Foxylary (@Foxylary) June 12, 2014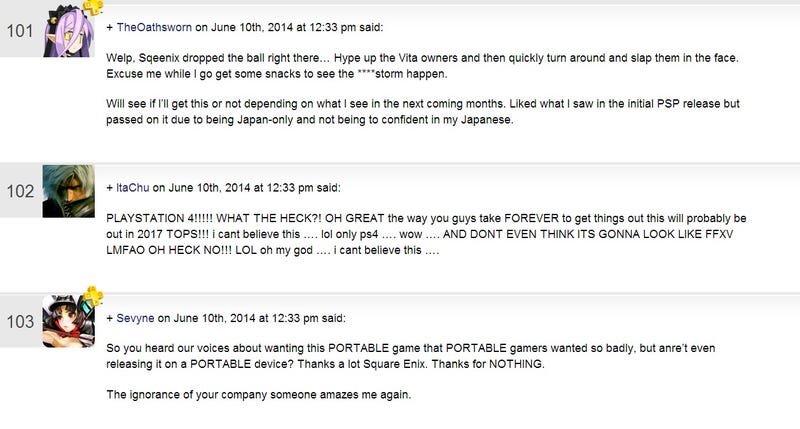 To all who think #NOVITANOBUY is dumb understand that it's not just about #FFType0 it's about the complete lack of support of vita owners

— No, I'm Dirty Dan (@yungbananabread) June 12, 2014
People bought this hardware expecting greatness and ended up with left over scraps of empty promises #NOVITANOBUY #NoVitaNoSupport

— No, I'm Dirty Dan (@yungbananabread) June 12, 2014
@PlayStationEU Yeah, like saying Final Fantasy Type-0 was coming to Vita when it was just PS4 awkward.

— Jonathan (@IMissBionix) June 12, 2014
You can reach the author of this post at jason@kotaku.com or on Twitter at @jasonschreier.