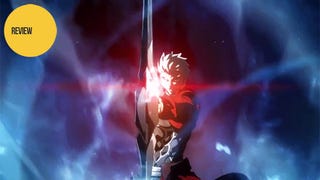 Unlimited Blade Works is not the Fate/Stay Night anime you remember. The plot is full of new twists and turns and it comes with a visual upgrade that puts other big budget TV anime to shame.
Fate/Stay Night: Unlimited Blade Works is the story of a secret tournament between seven chosen mages that happens in the shadows of our modern day world. Each mage is paired with a legendary figure from myth or history and the last pair standing receives the ultimate prize: the wish-granting Holy Grail.
Thus enter the two leads: Shiro, a normal high school boy with only the most minor of magical abilities and Rin, a young but powerful mage from the same school. After Shiro accidentally becomes a contender for the Grail when he is paired with noble female knight "Saber," Rin and her pragmatic partner "Archer" decide to ally with him to defeat the other teams—lest they risk the Grail falling into far more devious hands.
Let's get the obvious out of the way first: Unlimited Blade Works' high point is its visuals. They are stunning with their brilliant use of color and exquisite detail. In fact, I can say honestly and without hyperbole that it is the most beautiful-looking television anime series I have ever seen. Every frame of the show seems to have perfect polish. There are no derpy eyes or loose animation to be found, like in everything from One Piece to Gundam. Even when characters are far in the background, they still have a level of detail far beyond the accepted standard for TV anime. And while Ufotable, the studio behind Unlimited Blade Works, is known for great-looking anime, this surpasses even their other works.