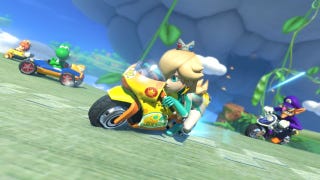 Ever since the new season of Game of Thrones started, I've gathered with a group of friends each Sunday night to play video games for a few hours before the new episode airs. We sometimes call it pre-gaming Game of Thrones, because we're huge dorks.
This past Sunday was different, however. We began planning for it several days in advance. When I stepped into the massive, dimly lit space of my friend Jake's apartment that still looks more like the factory it once was than a space people actually live in, I noticed that he'd shuffled the couches so one was directly in front of the other, both facing the huge swath of wall that would soon be lit up by a projector.
"Stadium seating," I chuckled, taking a picture.
This Sunday was a major event, and not because of anything that went down in Game of Thrones. This Sunday, we had Mario Kart 8 for the first time.
We were excited. We had emailed each other earnestly to figure out who was bringing how many controllers and when so we'd have a full roster. Jake created a Facebook conversation titled "Mario Kart Party" and messaged us all the day before to ask if we could get to his house by 4 so we'd have a solid five hours of gaming before Game of Thrones started. We settled on 6. Then Nick, the one who had an early copy of Mario Kart, taunted us with the fact that he'd been playing the game the entire weekend already so he knew he was going to crush us. It felt like we were ten years old again, crowding around a TV in the basement to race each other in Mario Kart 64.
Nick did crush us on pretty much every single track and cup series we played through. But that didn't make it any less fun. By the time the third lap came around in every race, I'd lean forward, gritting my teeth in intense concentration just to get ahead of whomever was directly in front of me. When I finally did, I threw my arms up in triumph.
As we wound our way towards hour three of our Mario Kart binge, we decided to start racing individual tracks so we could cover more ground with the little time we had left. I was confused why we were deciding to cut the game off abruptly when we were still having a blast, so I tried to suggest that we just keep playing instead of watching Game of Thrones. That didn't go over so well.
"I'm just…really into this game," I said, watching Shy Guy (my driver of choice) zoom through another gorgeous track. I was genuinely surprised by how much I was enjoying it, because while I admire Mario Kart's beauty, it's never really been my go-to Nintendo series.