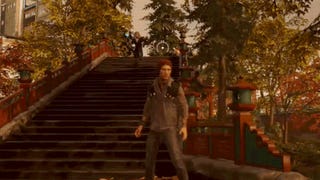 Today's the day when the latest installment in Sucker Punch's open-world action/adventure series launches up, up and away into PS4s all over the planet. While it resembles its predecessors a fair bit, Infamous: Second Son does do a few things differently than them. Check out the advice below for ways that you can be a more super superperson.
Second Son's all-new lead character is Delsin Rowe, a Native American graffiti artist and all-around troublemaker whose metahuman ability is to absorb the powersets of other super-powered people called Conduits. He gets a total of four powersets in the game to use against the Department of Unified Protection, the military agency that's rounding up people with superpowers. Finding ways to use those powers in conjunction with the environment is the key to success in Infamous: Second Son.
Sneak up when you can
Stealth has never been a big feature of the Infamous franchise but Second Son does let you quickly dispatch enemies if you catch them unawares. Doing so lets you rack up Karma and gets rid of one stream of gunfire that you'll have to dodge when guns start blazing.
Max out your heavy projectile ammo early
Speaking of the missile attacks, you'll want to spend shards on those early and often. You start out with two for each powerset, in most cases, and can purchase additional ammo slots as you go. You'll be using this skill in every one of Second Son's boss fights so it's a good idea to build up your stores as soon as possible.