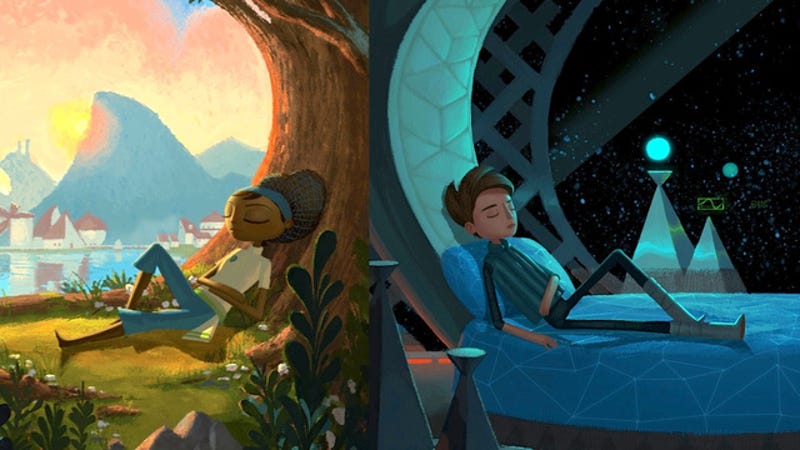 Tim Schafer had a lot to talk to me about, a lot to clarify, when we met in his offices in San Francisco. It's been a wild couple of months for Schafer and Double Fine productions.
Back in July, Schafer sent an update to backers of his record-breakingly successful Kickstarter adventure game Broken Age, telling them that due to the game's increased scope, they were going to split the launch into two, and use sales from the first half to help finish the game. Fairly or unfairly, public response got heated.
In the time since that announcement, a number of things have become clear: Schafer and company are not asking backers for more money, the game is going to get finished one way or another, and backers won't have to pay any extra for the finished game. But plenty of confusion remains.
That's doubtless due in part to the fact that the entire process of crowdfunding a video game is new and untested. Double Fine's record-breaking Kickstarter success—they overshot their initial goal $400,000 goal and ended on $3.3 million—was unprecedented, and opened the door for dozens of video-game Kickstarters that followed. But they were, and remain, the highest-profile video-game Kickstarter success story.
A lot of things have happened in the time since the Kickstarter's success. The game now has a name, Broken Age, and was revealed earlier this year with this lovely teaser trailer:
Double Fine has also put forth another successful Kickstarter campaign, this one for a tactics game called Massive Chalice, headed up by Double Fine's Brad Muir. The second campaign raised $1.2 million, and Massive Chalice is also currently in development.
Meanwhile, Broken Age development has carried on alongside Massive Chalice, with one crucial difference: Broken Age's Kickstarter terms give backers exclusive first dibs on information about the game, while Massive Chalice made no such promises and makes all of its updates publicly.
With Broken Age backers privy to updates on the process of the game, information on Broken Age has taken on a fragmented quality. Backers know things before the press and the general public do, but not all of its 87,142 backers keep things to themselves, and some members of the press are also backers of the project. That hasn't been an issue in the past, but when Schafer's update about the new launch plans hit Reddit and other message boards, it was immediately newsworthy. The public got the news, without the context and transparency that had been provided to backers.
After Kotaku and a number of other sites reported on the change in plans and budget, Double Fine reached out to see if I'd be interested in doing an interview with Schafer and Broken Age producer Greg Rice about the state of the game, and how things are going. I agreed to come by and check out the game and chat with them. (I should say that I'm friends with a couple of Double Fine employees; they're all such nice people that if you live in San Francisco and write about video games, it's hard not to get to know them. I don't think that really colors my take on what they're doing, but it's worth putting it out there.)