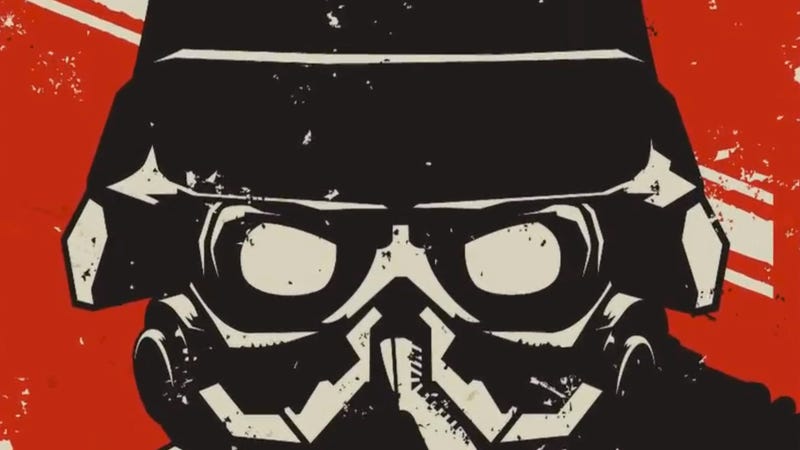 The first one was infamously dubbed a Halo-killer. The second gave the PlayStation faithful something impressive to hang on to when pickings were slim in the FPS genre. And Killzone 3 remains one of the only games that truly delivered on the promise of 3D gaming, layering its graphics so that it looked like you were playing through a sci-fi diorama of death. They've been shiny exemplars of what PlayStation systems can accomplish but Guerilla Games' sci-fi shoot-em-ups have left me cold. I'm hoping that Killzone: Shadow Fall will be different.
The Killzone games always seem like they've been engineered to explicitly impress the shit out of you, with no reason to exist other than to look shiny and render explosions in ever higher detail. Ostensibly, you were supposed to be in awe of the Helghast, the implacable enemy faction out to dominate the galaxy. But, for me, that never happened. WARNING: Spoilers for Killzone 3 follow.
The Helghan grunts and commanders alike were full of bland bluster. And I never rushed to chat about a Killzone set-piece with friends when I played those games. Moreover, after I finished Killzone 3—with its ending that blows up an entire planet—I found a surprising lack of chatter about such an apocalyptic event. Did anybody care that they just blew up a planet? Killzone: Shadow Fall might be the game that makes me give a damn about the malevolent culture at the heart of the FPS series.
Killzone's main problem has been that the series' bad guys have been far more interesting than its good guys. Can you even name the soldiers who you controlled in those games without looking it up? Probably not. They were empty wire-meshes thrown against creepy, glowy-eyed enemies. It was those enemies who were the series' only intriguing element. In the franchise's three titles, the Helghast were essentially presented as an extraterrestrial Nazi/Stalinist mash-up.
Marketing images—as well as unlockables inside the games—channeled mid-20th Century Soviet propaganda art and you could see the similarities to a swastika on the Helghan flag. And the Old Country macho affectations of the Helghan ruling class certainly made it feel like they were in a futuristic version of the Politburo. But for all the wannabe provocation—ooh, get angry, why don't you?!—in the Helghan DNA, it never made me feel anything. Sure, the visuals and performance pushed the PS2 and PS3 to their limits but that's all technical flash not emotional reaction.
The same kind of flash showed up when Killzone: Shadow Fall showed up at this February's PlayStation Meeting. (The video above is from E3 last week and features a more in-depth breakdown of Shadow Fall.) Guerilla's devs were trotted out to show off a demo that highlighted the PS4's glorious processing power. But in the middle of all the carnage, there was the hint of an interesting idea that could separate Shadow Fall from its predecessors: You might actually have some sympathy for the bad guys this time.