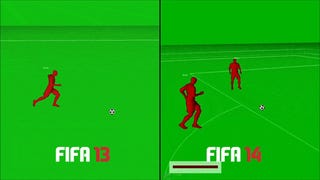 Usually, if someone wants to convince you that the video game they're making is going to be great, they tell you what they're putting in it. But what if they made nearly the same game a year ago? They have to take a different approach.
This is the plight of the people who make big-time sports video games. Their job is to both make a better game than the one they made last year and to convince you that it's worth buying the new one, even though they were selling you nearly the same thing last year.
Sports gaming fans know what sports games creators—and sports games marketers—do to try to solve this problem: to a degree unseen in any other area of gaming, sports games creators knock their own work. They often do this publicly, in trailers for the new games that show what was actually wrong with the games that came out the year before.
If you're a fan of Call of Duty, Super Mario games or really any other non-sports game, a bit of official EA Sports video like the one below, taken from an official trailer for this year's NHL 14, might shock you. They're showing, quite clearly, that last year's game had some flaws:
Sports gamers are used to this kind of thing, but even those fans are probably unaware of just how frank some of the developers of these games are to the press. In 2013, they'll freely knock the 2012 editions of games that, just a year ago were supposedly the pinnacle football, hockey and soccer experiences on a PlayStation or Xbox. Some might say that that makes them the most honest game creators around. Or the best salesmen. Or both?
For two years, I've been privy to a pair of semi-public teardowns of the previous year's EA Sports games. They've happened each of the last two springs as part of a press preview of the fall's big games from EA. Since we're in the midst of EA Sports' big 2013 sports releases—NCAA Football 14 and Madden 25 have now been released; NHL 14 and FIFA 14 are still forthcoming—I thought it'd be a good time to tell you about what I've come to look forward to as two of the weirdest hours of my year as a video game reporter.
I leave these two-hour sessions amused, impressed and a bit bewildered. It's commendable that game developers are iterating on the finest details of their games, spotting old flaws and fixing them. But it's weird, right? It's weird that this happens—that the same game has to be monkeyed with year after year to... make it better? Make it different enough to sell again?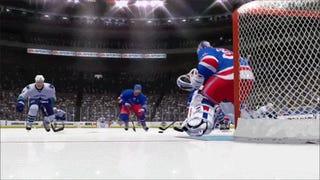 Sports games are at the nexus of corporate gaming's sometimes competing, sometimes complementary capacities for creation and commerce.
Of all the kinds of games out there, they are the ones most guaranteed to get sequels and to get better all the time because of it. (Remember that games are not movies and that they often get better when they're sequelized, since so much of what makes a game good involves mechanics, technology and design.)
Sports games are also among the least likely games to get ample time to have a good sequel made from them. A new one gets made every season. By their nature as games that are designed to replicate a relatively unchanging human activity, sports games are also the games that should be most eligible to being perfected, to having an ultimate version crafted that needs no improvements ever.
These swirling factors are almost a fight for the soul of a video game, a tug of war between what must be done, what can be done, what should be sold, what can be played. All of that is evident in these two-hour sessions I'm writing about today that both hilariously and fascinatingly turn into two hours of EA Sports' video game producers showing how last year's games weren't as wonderful as they made them seem last year.
Sure enough, next year, they'll come clean about how this year's games aren't as good as the ones coming out in 2014.
Two Of The Weirdest Hours Of The Video Game Year
It works like this: in May, a handful of games reporters, generally one per major gaming or mainstream outlet, meet with a variety of game publishers in Santa Monica to see some of the games that will be shown at the big gaming show E3 in June. The reporters are also considered to be judges and will vote on Best of Show awards at E3. Throughout most of the week, reps for games from Sega, Konami, Ubisoft, Activision and most other big publishers do their best to show how great their games are. They'll often let the press play the games.
There are usually about six or seven EA meetings, each running a half an hour. The meetings happen in small groups, rotating a handful of games reporters in and out of a bunch of rooms. Four of the meetings are for sports games: the newest NCAA, Madden, NHL and FIFA releases. Those are the weird ones, because those are the ones where a lot of time is spent knocking last year's games.
Walk into one and you might be shocked. Walk out of one and you might be thinking: hey, that new game seemed so much better than last year's.
Of course, I recently described these meetings to a colleague who just dismissed all of this as "sports games marketing bullshit."
Maybe. Maybe not.
I'll take you back to the meeting for NHL 14 first. The man giving the presentation was producer Sean Ramjagsingh. It took all of a minute for him to start pointing out what was wrong with NHL 13: