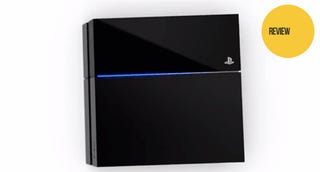 How good is the PlayStation 4? Ask me in five years. Ask me after Naughty Dog's next couple of games, after I figure out whether God of War is headed in the right direction, after I learn whether it has become unfathomable to play a console game without livestreaming it.
You know what? Ask me in a week, because I've only been using the new system online since 9pm Tuesday night and let history show that this review first ran online on 9am Wednesday morning.
That's why, for now, I'm calling this a Review (In Progress). These days, many game reviews aren't really done when they first run. They can explain parts of the game accurately at launch, but online communities shape these games. That's true, too, for the surprisingly online-centric PlayStation 4. We update game reviews to factor in how a game's multiplayer stands up. And I'll be updating this one, significantly, as we test more of the system's offline and online features. Still, there is a lot I can share now.
Today I can tell you a bit about what the PS4 is, how it's working in its pre-launch phase, and what, as a device, its manufacturer Sony has situated it to be.
UPDATE 5/27/14: After reading this review, please check out my PS4 Six Months Later review update. Or just skip right to that. Your call.
UPDATE 11/19/14: One year later (give or take) and we finally recommend that you get a PS4. Ready why here.
The console is a sleek, easily portable (!), wonderfully quiet slab
The PS4 is a surprisingly small box. It is so sleek that it might as well be the 2015 PS4 Slim tossed back to us 2013ers via a time machine. It is lighter, thinner and quieter than the original 2006 PlayStation 3. Some game machines, such as the first fat PS3 or the original Nintendo DS, arrive with an imperfect design that predicts their own looming displacement. Not this one. The PS4 shapes up as a box in need of no space-saving or cosmetic improvement. It doesn't use a power brick and even uses the same power cable as the PS3.