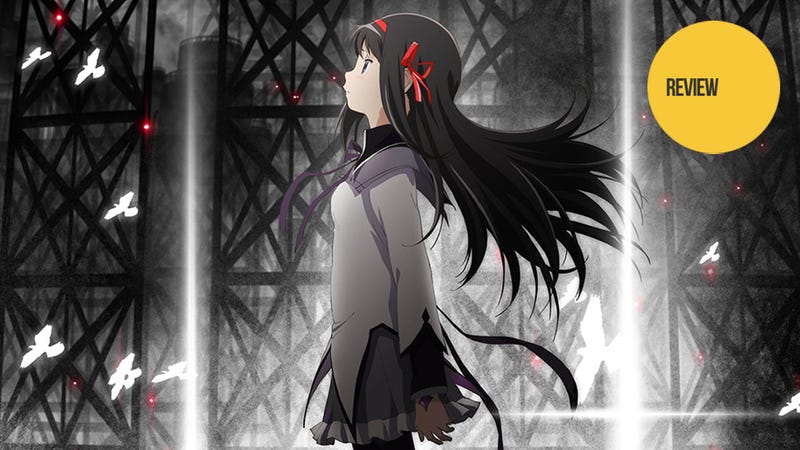 With its twisted-yet-compelling take on magical girl anime, Madoka Magica is one of the most critically acclaimed series of the past decade. Now, two years after the anime's end, myself and Toshi Nakamura are here to look at the new sequel movie, Madoka Magica: Rebellion.
Richard: Well Toshi, it's been about half-a-year since our last joint review for Steins;Gate: The Burden of Déjà Vu and now we're here for another big-named anime series sequel film.
Toshi: Hoo boy, and what a sequel it was.
Richard: I say for this review we first mention what we can without getting into the spoilers. Then we move on to light spoilers—i.e., the main setup and start of the film. After that, we'll throw up a second big bold spoiler tag and get into the twists and nitty-gritty plot details. Sound good?
Toshi: Speak softly and carry a big spoiler warning sign? Sounds good to me.
Richard: Ain't that the truth. Alright, before we dive into Rebellion, I think we should quickly go over our histories with the Madoka Magica franchise.
Toshi: So I guess a spoiler warning (for the TV series) might be in order.
Richard: Well, for me, I didn't watch it when it first aired. From what I had heard about the show, I was expecting a non-stop, ultra-violence-filled gore-fest—rather than a genre deconstruction with psychological exploration. Needless to say, when I finally did watch the series the week before the first film remake was released, I was pleasantly surprised. It really is a great anime that gets even better on your second time through—which is rare in any form of fiction.