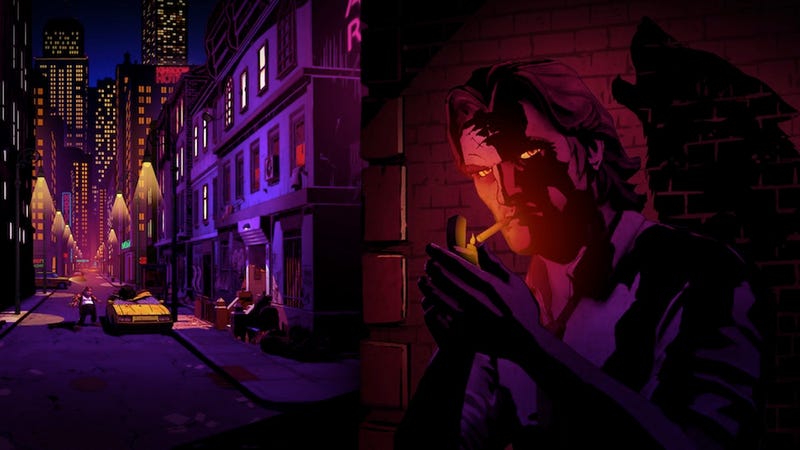 It's a killer setup for a mystery: Hundreds of storybook fables have relocated to New York. One man—the Big Bad Wolf—is in charge of keeping order. And now, someone is murdering fables. That's the premise for The Wolf Among Us, a new game based on Vertigo's popular Fables comics. And while the game is often as cool as its premise, something's still a bit off about it.
The Wolf Among Us is a new five-part episodic adventure game series from Telltale, the studio that so wowed everyone last year with their fantastic, game-of-the-year nominated Walking Dead series. This time around, they're adapting Bill Willingham's Vertigo comic series Fables, which takes famous characters from popular stories—Snow White, Beauty and the Beast, Rapunzel, Cinderella and the Big Bad Wolf among them—and drops them into modern-day New York.
The new game is set up as a prequel to the comics—in it, players take control of Bigby Wolf, the hirsute, gruff human version of the Big Bad Wolf himself. It's the early 80s in New York, and there's been a murder in Fabletown. Bigby's the man to get to the bottom of it.
The first chapter of Bigby's big adventure, titled "Faith," comes out digitally tomorrow for Xbox 360 and PC, and next Tuesday on PS3. It's a very cool adventure—the writing is sharp and often bracing in a way that effectively conjures the comics, and the art style is gorgeous. It is generally easy to recommend, and if you're into the books, you'll doubtless get a lot out of the game. And yet there's something about it—or maybe some things about it—that leave the finished game feeling a bit out of whack.
For starters, the question lingers as to who, exactly, The Wolf Among Us is for. It's plenty fun for those who have read and liked the comics, though some of the plot twists won't hold us in all that much suspense, given that we already know what happens in the future. But I have to wonder what those who haven't read the books will think of the game, or at least, what they'll think of its first chapter.
If you're going to play The Wolf Among Us, I really would recommend taking a bit of time to read a couple trades of the comics first. At the very least, read Mike's great breakdown of what Fables is all about, and what so many of us like about the comics.