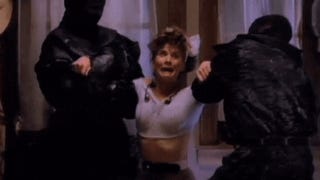 I suppose a Night Trap revival was inevitable, wasn't it?
Many of '90s FMV (full-motion video) pioneer Night Trap's original creators have gotten back together to kickstart an HD version of the campy, controversial trap-'em-up and—pending its success—possibly create a sequel. Right now, however, they're focusing all fire on the HD remake, which apparently requires $330,000 to get off the ground.
For the uninitiated, Night Trap is an FMV game that was originally released on Sega CD back in 1992. It saw players monitor a slumber party via hidden cameras in order to protect its attendees from, er, evil ninja vampires. You know, like you do.
It was also the silliest, campiest, most preposterously awkward thing.
So of course, it became a lightning rod for controversy. And by "so of course," I mean, "I still can't fully comprehend what happened there, and it's been more than 20 years." Shortly after its release, Night Trap was declared the antichrist to violent video gaming's devil music apocalypse rock and roll band.