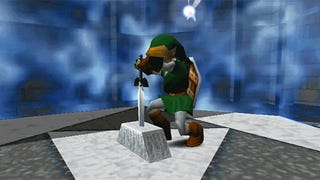 Everybody remember the Zelda rap?
Well then, get ready for a drive down nostalgia lane where we are going to look at the history of the Zelda main series as told by its TV commercials. And while this is not all the Zelda commercials by any means, these peeks into the past, showing how the games were promoted at the time of their original releases, are fun to compare and contrast with how we see the games now.
---
Legend of Zelda (1987)
---
The Adventure of Link (1988)
---
A Link to the Past (1992)
---
Link's Awakening (1993)
---
Ocarina of Time (1998)
---
Majora's Mask (2000)
---
Oracle of Seasons/Oracle of Ages (2001)
---
Four Swords/A Link to the Past (2002)
---
The Wind Waker (2003)
---
Four Swords Adventures (2004)
---
The Minish Cap (2005)
---
Twilight Princess (2006)
---
Phantom Hourglass (2007)
---
Spirit Tracks (2009)
---
Skyward Sword (2011)
---
A Link Between Worlds (2013)
---
Want more commercial histories? Check out our look at the history of video game consoles as told by commercials—as well as the Japanese version.