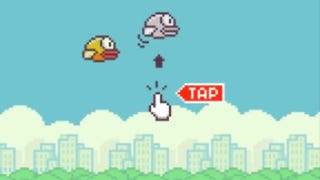 "People prefer imperfect things," the creator of the incredibly popular, loved, hated and now-notorious Flappy Bird, Dong Nguyen, mused over Twitter last March, long before most anyone had ever heard of him or played his game. He was stating why he thought he'd be okay launching a video game that included some bugs. "They need something they can comment as a constructive feedback."
Nguyen has received ample feedback over the last several weeks about Flappy Bird, his maddeningly difficult game about flying a yellow bird between a series of vertical green pipes. Some of the feedback has been positive, some of it brutal, some of it from happy gamers, some from angry gamers—some of it from from gamers so infuriated by the difficult yet charming Flappy Bird that in a roundabout way they'd seemingly come to love it. Some of it's come from the press, including one regrettable piece from Kotaku. I'll get to that, but, first, more about Nguyen's journey.
For a time earlier this year, the Hanoi-based Nguyen merrily retweeted a lot of the feedback he got. He was seemingly in on his own joke that his free game was so difficult that it drove some of its players up the wall.
"Dear creator of Flappy Bird," one person Tweeted at him in late January as the game was rocketing to the top of the iTunes charts, "I hate you. Go die in a hole."
"Sorry but I won't :-)," he replied.
"I hate you and your stupid fucking game!" another wrote, around the same time. "I mean I hit one feather on a pipe and die! How realistic is that?!?"
"Please don't expect realistic in games," Nguyen replied, "Beside, I think my games are not for everybody."
"As you created flappy bird," someone wrote, "can you make me win?"
"No, I cannot," he answered. "It's just a game. Take care of yourself first. I don't make game to ruin people lives."
A couple of days later, someone asked him, "How many death threats do you get a day?"
"Few hundreds," he answered.
---
Since late January, Nguyen has replied to dozens of gamers day after day, addressing bugs, explaining the game's medal system, seemingly laughing off the angry and/or mock-angry Tweets sent his way, seeming to take his success in good stride.
But this weekend, as the success of Flappy Bird seemed to cast more of a pall over Nguyen, he pulled his game from the iOS and Android stores.