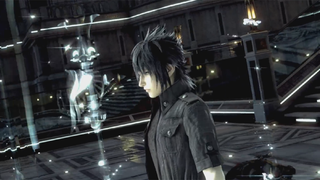 On Sunday, when I asked Final Fantasy creator Hironobu Sakaguchi what he thinks of the current state of the franchise he built, his answer was short and blunt. "Final Fantasy XV is taking too long."
Is it?
Well, when The Game Now Called Final Fantasy XV was first announced back in May 2006, the president was George W. Bush; Kingdom Hearts II was brand new; pop star Lorde was ten years old; "next-gen" meant Xbox 360, Wii, and PS3; the latter two consoles hadn't even come out yet; Hannah Montana had just debuted; Twitter didn't exist; Saddam Hussein was still alive; Little Miss Sunshine was about to hit theaters; and gamers across the world were all eagerly awaiting a little video game called Half-Life 2: Episode 1.
So, yes, Mr. Sakaguchi, we all agree with you there. Final Fantasy XV is taking too long. And while it's silly for any of us to complain that director Tetsuya Nomura and crew are taking their time to make this game as good as possible, it's also becoming apparent that with every passing month, the stakes are getting higher, not just for the future of Final Fantasy but for the future of role-playing games in Japan as a whole. It's impossible to overstate how much pressure is on this game.
That sounds a bit dramatic, so let's zoom out a bit. First, some facts:
1) Though there are still plenty of Japanese RPGs out there—hey, Tales of Xillia 2 came out just two weeks ago!—the landscape is pretty grim these days, especially for people who prefer big screens over handhelds.
2) A large percentage of Japanese developers—including Sakaguchi himself—have abandoned console development to chase mobile gaming and the Puzzle & Dragons phenomenon.
3) One huge hit could change everything.
It's no secret that the video game industry is and has always been about trends, and for JRPGs, Final Fantasy has always been on the vanguard. When Final Fantasy went 3D, other JRPGs were right behind it. When Final Fantasy went to PlayStations 1 and 2, other JRPGs followed suit. And when Final Fantasy declined, with only one single-player main installment in the series even coming out during the last generation of consoles, other JRPGs simply started to disappear.
That's where we circle back to Final Fantasy XV, which might rank up there with Half-Life 3 as one of the most highly-anticipated video games of the generation. We haven't seen much from the game yet—and skeptics have questioned how much of FFXV even exists—but what we have seen looks spectacular.
Yet the longer we have to wait for even the tiniest morsel of information about the fifteenth Final Fantasy, the more skeptical fans get. At E3 2013, Square blew everyone away with the snazzy re-reveal trailer for Final Fantasy XV, but now it's been 15 months without a word. The cynicism is spreading. In a NeoGAF thread today reporting that Square Enix had created a new studio for console RPGs, the first post read: "Oh, so FFXV is finally entering development."
Goddamn.
At that E3, a lot of us optimists thought the re-reveal was a sign FFXV was actually coming out in the near future. Who would've thought we'd go another year and a half without hearing another word, or even seeing another screenshot? In fact, I made a steak dinner bet with Wired's Chris Kohler: I said it'd be out in 2014; he said 2015. Chances are, we're both gonna lose. No steak for anyone.
Back to the point. Last year, as we entered the PlayStation 4 and Xbox One era, I theorized that Japanese game developers are all watching Final Fantasy XV. Much like in the PlayStation 1 era, when the critical and commercial success of Final Fantasy VII led to a surplus of RPGs trying to cash off the popularity of Cloud and Aeris, I predicted that the fate of console RPGs in Japan this generation will hinge upon this one titanic game.